Nigeria is a very large country in terms of landmass and it is divided into 36 states and the Federal Capital Territory. As you would expect, these Nigerian states do not share the same land mass as some states are larger than others when land mass is considered.
Even as Nigeria is known for its land area and diverse population, it still has some of the smallest states on the African continent. These states – although small in the land mass – have their own unique culture and heritage.
If you're curious about which states in Nigeria have the smallest land mass, then you're on the right page.
In this article, we will be taking a look at the smallest states in Nigeria. Here, we will outline a list of the 10 smallest Nigerian states right now and their respective land masses (in Square Kilometers).
A peep into the list shows Lagos state as the smallest Nigerian state with a relatively low landmass of 3,345 km square. It is also about 22 times smaller than Niger State which is the largest state in the country.
Without wasting more time, let's take a look at a list of Nigeria's smallest states.
Smallest States In Nigeria Right Now: Top 10
1) Lagos State – 3,345 Square Km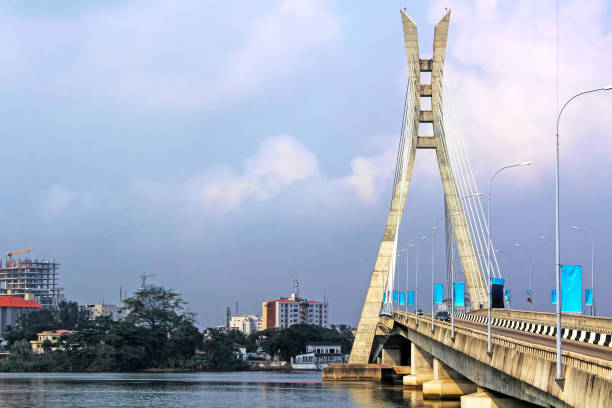 Although this might seem unbelievable to some Nigerians especially residents of the state who are not familiar with Nigeria's geography, Lagos state is the smallest state in Nigeria.
Despite being the smallest Nigerian state when landmass is taken into consideration, Lagos state is the most populated Nigerian state with over 25 million residents and business owners. It is also the most developed state in the country currently and the Nigerian state that comes to mind whenever you think of infrastructural development and investments in the country.
Lagos State is also one of the major contributors to the Nigerian economy as it is often referred to as the most economically important state in Nigeria.
2) Anambra State – 4,844 Square Km
Anambra state is the second smallest Nigerian state with a land area measured at 4,844 square meters. It is also the eighth-most populated state in the country with a population of around 6 Million residents.
This state is located in South Eastern Nigeria and it is one of Nigeria's richest states. Some of the most popular cities in Anambra state are Onitsha, Nnewi, and Akwa the capital city, these cities are also very economically important cities and they contribute greatly to the state's internally generated revenue.
Anambra state has a monthly IGR of over 3 Billion Naira which makes it one of the richest states in South-Eastern Nigeria. The state is bordered by Imo, Kogi, Delta, and Enugu states.
3) Imo State – 5,530 Square Km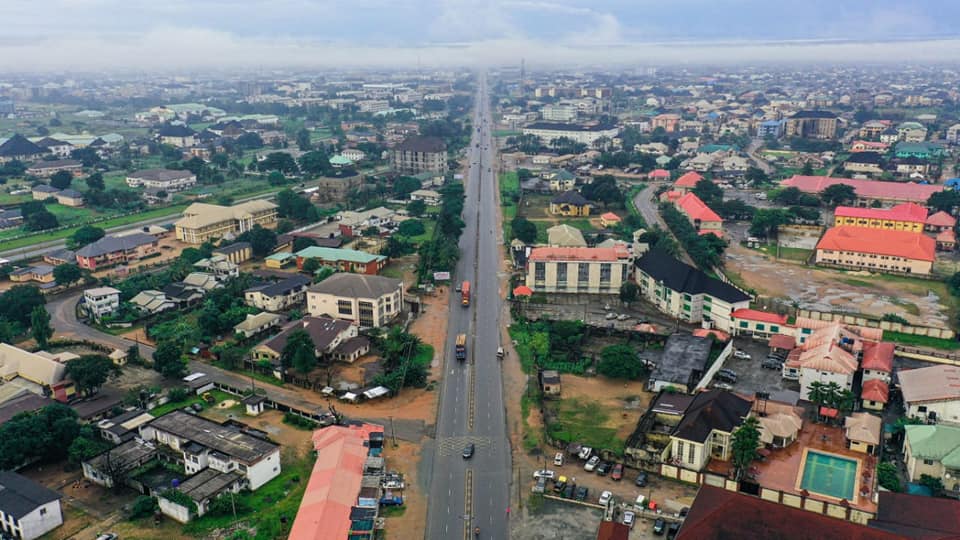 Imo state is the 3rd smallest state in Nigeria and it is the 2nd smallest state in South Eastern Nigeria. The landmass surrounding Imo state is measured at approximately 5,530 Square Kilometres.
Landmass aside, Imo State is also an economically important Nigerian state. This state like most states in the Sout Eastern and South Southern regions is one of Nigeria's oil-producing states and it is known for its vast amount of natural gas.
Imo state also ranks as the most educated Nigerian state. It has a large number of recognized educational institutions like the Federal University OF Technology Owerri, Federal Polytechnic Nekede, Imo State University, Eastern Palm University, Ogboko, Imo State Polytechnic, Umuagwo, Alvan Ikoku College of Education, and many other notable educational institutions located in this state.
4) Ebonyi State – 5,670 Square Km
Ebonyi state is another South Eastern state with a relatively lower landmass when compared to other states in the region. It is currently the 4th smallest state in the country and it occupies a small land area of approximately 5,670 Square Kilometers.
Landmass aside, Ebonyi state is mostly known for its contributions to the Nigerian economy with agriculture. This state is majorly an agricultural region that is known for the production of rice, yam, potatoes, maize, beans, and cassava in Nigeria.
5) Abia State – 6,320 Square Km
Abia state was created from Imo state and it is the 5th smallest Nigerian state. Many believe that even as small as this state is, it still has what it takes to have a robust economy on its own but sadly, Abia state has been severely mismanaged by its elected officials hence hindering the state from achieving its full potential.
Aba – the most popular city in Abia state is mostly known for manufacturing consumer goods like plastic, shoes, school bags, textiles, pharmaceuticals, cosmetics, and cement which has made one of its markets, the Ariaria International Market the largest market in West Africa.
6) Ekiti State – 6,353 Square Km
Ekiti state is another South Western state on this list of the smallest states in Nigeria. It was created on the 1st of October 1996 and it is bounded by other South Western states namely Ondo, Kwara, and Kogi states.
This state is one of the many Yoruba-dominated states we have in Nigeria today with an estimated population of over 16 million people living and doing various businesses in it. The landmass of Ekiti state is measured at 6,353 Square Kilometers.
7) Akwa-Ibom State – 7,081 Square Km
Akwa-Ibom state is a South Southern state in Nigeria with a relatively small landmass. It is located in the coastal region and it is also an oil-producing state in the country.
This state is mostly occupied by indigenes of Akwa-Ibom and other neighboring states and it has a growing population of over 5 million people residing within the state. The capital city of the state is Uyo and the state's total land area is measured at 7,081 Square Kilometers.
8) Enugu State – 7,161 Square Km
The Coal City as it is popularly called is a South Eastern state and one of the smallest states in Nigeria. It was created in 1991 from the old Anambra State and it has an estimated population of 3 million residents living in its territory.
The land area around Enugu state is measured at 7,161 Square Kilometers and its capital city is also called Enugu.
9) F.C.T Abuja – 7,315 Square Km
The Federal Capital Territory, Abuja is the capital city of Nigeria. It replaced Lagos as Nigeria's capital city on 12th December 1991. Abuja is also one of Nigeria's fastest-growing cities with over 1 million people residing in it.
Although Abuja is not technically a state in Nigeria, it is one of the smallest recognized places in Nigeria in terms of landmass.
It is located in the Northern Region of Nigeria and it occupies a land area of about 7,315 Square Kilometers. Abuja is known for being one of the few purpose-built capital cities in Africa, as well as being one of the wealthiest cities on the continent.
10) Osun State – 9,251 Square Km
Osun state is a South Western state and the last state on this list of the smallest Nigerian states in terms of landmass. It is bounded by Kwara, Ekiti, Ondo, and Ogun states respectively. It is the third smallest state in South Western Nigeria and the 10th smallest in the whole of Nigeria.
This state occupies an estimated land area of 9,251 Square Kilometers and over 3.5 million people live in it – indigenes and non-indigenes alike.
Others
Bayelsa State — 10,773 Square Km
Rivers State — 11,077 Square Km
Ondo State — 15,500 Square Km
Ogun State — 16,762 Square Km
Delta State — 17,698 Square Km
Edo State — 17,802 Square Km
Gombe State — 18,768 Square Km
Kano State — 20,131 Square Km
Cross River State — 20,156 Square Km
Jigawa State — 23,154 Square Km
Katsina State — 24,192 Square Km
Sokoto State — 25,973 Square Km
Nasarawa State — 27,117 Square Km
Oyo State — 28,454 Square Km
Kogi State — 29,833 Square Km
Plateau State — 30,913 Square Km
Benue State — 34,059 Square Km
Kebbi State — 36,800 Square Km
Kwara State — 36,825 Square Km
Adamawa State — 36,917 Square Km
Zamfara State — 39,762 Square Km
Yobe State — 45,502 Square Km
Bauchi State — 45,837 Square Km
Kaduna State — 46,053 Square Km
Taraba State — 54,473 Square Km
Borno State — 70,898 Square Km
Niger State — 76,363 Square Km
Wrapping Up
In conclusion, Nigerian states may be small in size but each state in the country regardless of land mass and offer a unique blend of culture, tradition, and people.
Lagos State is the smallest Nigerian state by land mass with the state covering a land mass of approximately 3,345 Square Km. The state is closely followed by Anambra and Imo states with land masses of 4,344 Square Km and 5,530 Square Km respectively.
Even as Lagos state is the smallest state in the country by land, the state is still Nigeria's most populated state with over 25 Million Nigerians – indigenes and non-indigenes alike – living and going about their various daily businesses in the state.
And that will be it for this article. If you landed on this page because you were searching for a list of Nigeria's smallest states, we hope you found our list helpful.