What is the salary of senators in Nigeria right now? How much does a Nigerian Senator receive as salary per month?
Well, according to our findings, an average Nigerian senator takes home ₦700,000 as salary per month while the senate president who is the leader of the country's upper legislative chamber takes home ₦750,000 as salary monthly.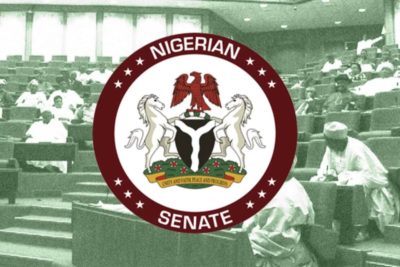 But that is just a tip of the iceberg.
When you add all the monthly allowances (entertainment, maintenance, health, furniture etc) revealed on this web page, an average Nigerian senator takes home unbelievable amounts of money every month.
In this article, you will find a complete breakdown of all the money (salaries, allowances etc) members of the senate in Nigeria receive in a month and annually.
You will see why so many of them will do everything possible to be voted into that office every four years. It is no news that Nigerian senators are among the highest-paid senators in the world.
According to Professor Itse Sagay, a Nigerian senator earns over 3 billion Naira per annum.
Going by his breakdown of all the money a senator receives on a monthly basis which amounts to 29 million nairas, one could easily see why Chief Olusegun Obasanjo, the former president of Nigeria, came out in August 2017 to refer to our senators as "unarmed robbers"
Though he was heavily criticized by the senate for his utterances, the fact remains that what he pointed out is not far from the truth.
How did we arrive at the figures "₦700,000 per month" for each member of the senate and "₦750,000 per month" for the senate president?
The answer lies below. Keep reading!
Sen. Shehu Sani's Shocking Revelation On This Topic
In 2018, the senator representing Kaduna Central Senatorial District on the platform of the All Progressive Congress (APC) as at that time, Shehu Sani, made some shocking revelations about the salaries and allowances himself and his colleagues receive every month, as reported by Premiumtimesng.com.
According to Sen. Shehu Sani, a Nigerian senator receives ₦700,000 as salary per month.
But apart from that, he also receives about ₦13.5 million every month as allowances.
These allowances are meant to cover his monthly needs as a senator.
If you take out your calculator and add the numbers together, you will be arriving at ₦14,200,000 every month.
Multiply that 12 and you will have N170,400,000 to be the yearly payment these leaders of our pocket.
Fast forward to 2019 and the senate president himself reveals even more about this salary of a thing.
Ahmed Lawan's Disclosure Of Nigerian Senators Salary
On Tuesday, June 25, 2019, while addressing the members of the Senators' Forum that paid him a courtesy in his office at Abuja, Ahmed Lawan, the Nigerian Senate President made further revelations about the money being received every month by our senators as basic salary.
Below is an excerpt of what Sen. Ahmed Lawan is reported to have said:
"What I want to emphasize here is that I never believe that there is anything called jumbo pay to the national assembly.
"The National Assembly members, both the Senate and the house (of representatives) receive what is their salaries and I receive N750,000 as my salary.
"But I need to function as a senator, my office needs to be properly funded. I believe that the national assembly needs proper funding because the legislature is so critical in any national development," he said.
From Sen. Ahmed Lawan's statements, we see that the senate president of Nigeria receives N750,000 as his basic monthly salary.
Adding to this are other allowances you will find in this article as you read on.
Breakdown Of The Salary of Nigerian Senators & Allowances Per Month
Professor Itse Sagay is a senior Advocate of Nigeria (SAN) and the chairman of the Presidential Advisory Committee Against Corruption.
According to the Professor, the amount of money disclosed by the Senate President as their monthly salary is just half-truth.
According to the highly respected professor of Law, the senators do not take home anything less than ₦15 million per month.
Below are his exact words:
"I respect and like him (Lawan), but what he has done is to give half-truth.
He is telling us the actual salary without mentioning anything about the allowances.
That's where the jumbo pay comes in when you talk of building, furniture, domestic this or that, 15 items and those items alone bring everything up to ₦13.5m a month.
So simply mentioning the base salary, which brings it to over ₦14m, is not sufficient.
"So technically, he is right. That is their salary. But what is his income, his take-home pay, at the end of the month?
It is about N15m and we are not including many other things we need to talk about now."
Recall that earlier in 2018, Professor Itse Sagay dished out to the public a complete breakdown of all the salaries and allowances the Nigerian senators receive as published by Pulse.ng, referring to them as the highest paid senators in the world.
Below is the complete breakdown of the entire allowances alongside a little explanation from us on each of them.
Basic Salary – ₦2,484,245.50
According to publication credited to the professor on Pulse.ng, this is the amount of money every senator receives per month as his basic salary.
This is followed by others below that are not often made public to keep the average Nigerian citizen in the dark of how their money is being spent.
Hardship Allowance – ₦1,242,122.70
I am yet to understand what this money is actually meant for. Is it actually given because of the failing economy? The professor did not specify.
If you know about this hardship allowance, feel free to leave a word or two about it in the comment section below this post.
Constituency Allowance – ₦4,968,509.00
Probably meant for handling little challenges and setting up little projects to help the constituency a senator came from. Not too sure about this though.
Furniture Allowance – ₦7,452,736.50
This money is meant for the repairing and purchasing of new furniture every month at the office or any other place the senator has the need for it.
Newspaper Allowance – ₦1,242,122.70
This is given to help the senators stay abreast of the happenings within and outside the country in order to help them come up with ideas that will help push the country forward.
No nation would want to have ill-informed men as senators.
Wardrobe Allowance – ₦621,061.37
This money is meant to help our senators look good while carrying out their duties to the nation.
With this money, they are to change their wardrobes every month.
Recess Allowance – ₦248,424.55
I guess this particular allowance is meant for those times we usually here that the senate is on recess. A kind of break.
Accommodation Allowance – ₦4,968,509.00
Like the name says, this allowance is meant to take care of the accommodation needs of our senators.
This is to avoid Landlord embarrassment of any sort.
Utilities Allowance – ₦828,081.83
With this allowance, the senator can effectively take care of things like NEPA bills, Water bills and so many other things whether at home or in the office.
Domestic Staff Allowance – ₦1,863,184.12
This is meant to take care of his drivers, cleaners, chefs and other domestic staff a senator may have so he can focus on his/her job.
Entertainment Allowance – ₦828,081.83
This is meant for any kind of entertainment at all the senator feels will help him relax and think clearly.
Personal Assistant Allowance – ₦

621,061.37
This is meant to take care of anyone or those working as personal assistant to a Nigerian senator.
With this, he can pay them salaries and handle their needs.
Vehicle Maintenance Allowance – ₦1,863,184.12
With this money, Nigerian senators take care of their cars and other automobiles every month.
Leave Allowance

– ₦248,424.55
With this allowance, the senator can comfortably go for leave and return back to work when due.
Severance Gratuity – ₦7,425,736.50
Anyone with the idea on this is free to talk about it in the comment section below this article.
Motor Vehicle

Allowance – ₦936,982.00
The difference between this and the "Vehicle Maintenance Allowance" above is that while the above is for maintaining vehicles, this one is for buying them.
Wrapping Up
This article features the complete breakdown of the salaries and allowances of senators in Nigeria as revealed by the highly respected professor of Law, Itse Sagay SAN, and published by Pulse.ng.
I hope your desire to know how much a Nigerian senator receives every month as salary has now been met. Now you know why it is said that we have the highest-paid senators in the world.
That also explains why a whole lot of persons will do anything either to get in or remain in the office.