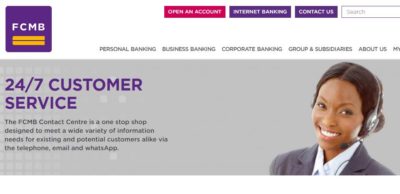 Want to contact FCMB customer care agents and report issues you encountered while using any of their banking platforms? This post is here to help you with all the contact details of FCMB bank you might need.
Most banks in Nigeria now provide top-notch customer care platforms for their customers as this is the most efficient way to maintain customers used in most organizations in Nigeria and the world in general especially when it comes to banking.
The First City Monument Bank(FCMB) is one of the oldest banking organizations in Nigeria. They offer all the banking services available to customers in Nigeria. These operations include normal retail banking, corporate banking, and investment banking services to large corporations, small and medium enterprises, and individuals.
As you might expect from this bank with many years in the banking industry, the FCMB customer care service has proven to be top-notch and this fact has also been confirmed by users of this bank in Nigeria.
Various customer care platforms that this bank provides to Nigerians and users in other countries include phone numbers(direct calls or WhatsApp), swift response emails, FCMB self-service, and customer care agents at physical bank branches near you.
In this post, we'll share some of the contact details provided by FCMB. All customer care details which will be provided are available 24 hours and 7 days a week.
FCMB Customer Care Details(Phone Number, Emails & More)
These are some of the best ways to contact the customer care agents at First City Monument Bank (FCMB). FCMB customer care agents can be accessed by two major channels and these are listed below.
1. Physical Meetings – If you desire to meet these customer care agents and have a face-to-face conversation with them, they are readily available at any of their bank branches near you or the FCMB head office.
All you have to do is to go to any FCMB branch near you and lay your complaints to them and they will respond to you as fast as possible(depending on the number of customers there before you arrive). They(usually more than one) are always located at designated points in the banking hall.
2. Online Conversations – Cannot take the stress at the bank? The FCMB customer care agents are readily available online to help you. All you need to do is pick up your mobile device and contact them with the contact details that'll be listed later in this post.
What Can FCMB Customer Care Agents Do For You?
Below are some of the issues that can be solved by FCMB customer service agents.
Account balance request
ATM Card re-issuance
ATM Card Blocking
Cheque book request
Stop Cheque order
Information on branch/ATM locations
Information on Products and Services
Customer feedback management (complaints, commendations, and suggestions)
Internet Banking/Transaction password reset
Account statement request via e-mail
Below you will find the FCMB customer service number, emails, head office address, and other ways to contact them for a swift response.
FCMB Customer Care Phone Number(s)
Phone numbers have always been the best way to contact the customer care department of any organization because of faster response as they can't often overlook phone calls from customers.
Below are the official phone numbers you can use to contact FCMB. These numbers can either be used to place direct calls or send a message via WhatsApp messenger.
01-2798800
+234(0) 7003290000
+234(0) 9099999814 (WhatsApp)
+234(0) 9099999815 (WhatsApp)
Other Ways To Contact FCMB Customer Care Agents
Below are some of the other ways you can use to reach FCMB customer service agents in Nigeria if you don't have airtime to place a direct call or can use WhatsApp on your mobile device.
Head Office Address – Primrose Tower, 17A, Tinubu Street, Marina, Lagos. You can also visit any of their branches near you as going to the head office is completely unnecessary.
Official Website – fcmb.com