Mineral resources are the major sources of income for countries of the world and Nigeria is no exception. The country Nigeria is a very rich nation when it comes to natural resources it is one of the countries with the highest number of mineral resources around the world.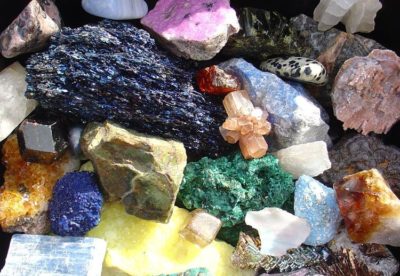 These natural resources play a major role in the Nigerian economy with Oil and Gas being the major one. The country is naturally endowed with vast natural resources and still, most of these are yet to be exploited.
In this article, we shall be showing you a list of all mineral resources in Nigeria and locations in which these minerals can be found.
List Of Mineral Resources In Nigeria & Their Current Locations
1) Petroleum & Natural Gas
Nigeria is one of the highest producers of Petroleum and Natural Gas in the whole world. This particular mineral was first discovered in Oloibiri, Bayelsa State in 1959.
Petroleum is the most important mineral resource in Nigeria right now as it is one of the highest contributors to the country's GDP. Its is mainly gotten from Niger Delta states which include Akwa Ibom, Delta, Rivers, Bayelsa, Edo, Abia, Imo e.t.c and these states sare some of the richest states in the country because of the vast deposits of Crude Oil located within them.
Currently, Nigeria has 4 main oil refineries where Petroleum and Natural Gas are produced and these refineries are where petrochemical products used in Nigeria like PMS, Diesel, Kerosene and other products are gotten from.
2) Coal
Coal is another major natural resource in Nigeria which was first discovered in 1909 at Enugu and exploration of it started at the Ogbete Mine in 1916. Coal produced locally in the country is also is also one of the best coals all over the world owing to its low ash and sulphur content, which makes it eco-friendly
It is a flammable black rock which is mostly used as a solid fossil fuel and it is made up of 65-95% carbon and also contains hydrogen, sulphur, oxygen and nitrogen. The combination of these elements makes it very combustible just like other organic compounds.
In Nigeria, Coal is majorly found in the Middle belt and South-eastern regions of the country (Kogi, Benue, Gombe and Enugu) and internationally, countries like Italy and the United Kingdom are the major users of this mineral.
3) Bitumen
Bitumen which is also referred to as Asphalt is a sticky, black and highly viscous liquid or semi-solid form of petroleum. It is one of the major products of the refining of Crude Oil in Oil refineries.
It was discovered in 1900 but its exploration in Nigeria started as far back as 1905. Bitumen typically occurs both on the surface and sub-surface and it is majorly gotten from Ondo State, South-Western Nigeria.
According to the Ministry of Mines & Steel in Nigeria, the reserves of bitumen in Ondo State is estimated to be around 16 billion barrels while that of tar sands and heavy oil is estimated at 42 billion barrels which is almost twice the amount of existing reserves of crude petroleum in the country.
Nigeria currently has the second-largest deposit of bitumen in the world which spans across approximately 120km of land in the country. The primary use of this mineral is in road construction, production of asphalt concrete, waterproofing products and felting of roofs.
4) Iron Ore
Iron Ore is a mineral resource in Nigeria with its biggest deposit in Itakpe, Kogi State. The Mining and exploration of this mineral are majorly handled by the National Iron Ore Mining Company which was founded in 1979.
According to Guardian.ng, Nigeria's iron ore can generate $60 billion yearly for the country if utilized properly. Other states which are rich in Iron Ore include Enugu, Niger State, and the Federal Capital Territory.
The National Iron Ore Mining Company supplies raw Iron Ore to Ajaokuta Steel Company (ASCL) in Ajaokuta and Delta Steel Company (DCL) in Aladja and these companies refine the Iron Ore to pure Iron and other metallic products.
5) Talc
Talc is also one of the major mineral resources in Nigeria. It is found in states like Kogi, Kaduna, Niger, Ekiti, Nasarawa, Osun, Oyo and Yobe states.
It is soft mineral which can be white, pale green or grey in colour it and feels greasy when touched. Talc is mostly made up of the magnesium, silicon, and oxygen elements.
The only talc plant in Nigeria is known as The Raw Materials Research and Development Council (RMRDC) is located in Niger state and it produces around 3,000 tonnes of Talc annually.
6) Gypsum
Gypsum is another mineral resource which can be found in Nigeria and it is an important input in the production of cement. About 1 billion tonnes of Gypsum is produced annually in Nigeria and states rich in this mineral include Adamawa, Anambra, Bauchi, Bayelsa, Benue, Borno, Delta, Edo, Gombe, Imo, Kogi, Ondo and Sokoto.
Other uses of Gypsum are in the production of Plaster of Paris (POP), classroom chalks, soil conditioning and a hardening retarder in other types of cement.
7) Bentonite and Baryte
Bentonite and Baryte are the main constituents of the mud used in the drilling of all types of oil wells. They are also some of the minerals which you can find in Nigeria currently.
Over 7.5 million tonnes of baryte have been identified in Taraba and Bauchi States and are currently produced on a yearly basis. Unexplored reserves of Bentonite are estimated to be around 700 million tonnes and they are available in many states of Nigeria ready for massive development and exploitation.
8) Gold
Gold is one of the precious stones found in Nigeria and it is a very valuable and costly mineral. Deposits of this mineral are mostly found in Northern Nigeria, most prominently near Maru, Anka, Malele, Tsohon Birnin Gwari-Kwaga, Gurmana, Bin Yauri, Okolom-Dogondaji, and Iperindo in Osun state.
Gold production in Nigeria began in 1913 and peaked in the 1930s. Mining and refining of gold is not very dominant in the country right now.
9) Rock Salt
Rock Salt is a very import mineral found in Nigeria and its uses are just too many to mention here. It is mostly found in salt springs at Awe (Plateau State), Abakaliki and Uburu (Ebonyi State), while rock salt itself is available in Benue State.
It is mostly used for making table salt, caustic soda, sodium hydrochloric acid, chlorine, hydrogen peroxide, and sodium bicarbonate. Rock Salt total reserve in Nigeria is estimated to be around 1.5 million tonnes and currently, further investigations are being carried out by the Federal Government to find more rock salt reserves in the country.
10) Gemstones
Gemstones are very important minerals in Nigeria and these stones are mostly found in Plateau, Kaduna and Bauchi states for many years now.
Some gemstones found in Nigeria include sapphire, ruby, aquamarine, emerald, tourmaline, topaz, garnet, amethyst; zircon, and fluorspar and these are regarded as some of the best gemstones in the world right now.
11) Kaolin
Kaolin is also one of the mineral resources which can be found in Nigeria. According to a document released by the Raw Materials Research and Development Council (RMRDC), about 3 billion metric tonnes of kaolin is estimated to be deposited in various parts of the country.
It is mostly found in Nigerian states like Delta, Adamawa, Borno, Katsina, Ekiti, Ondo, Kaduna, Kogi, Ogun, Sokoto, and Plateau. Major uses of Kaolin include manufacturing of cosmetics, pulp and paper, chalk, paints, agro-allied products and in pharmaceutical formulations. It can also be used in the making of fertiliser and insecticide, fillers in plastics and rubber and also serve as a reinforcing agent.
Others
Limestone
Cotton
Cassiterite
Clay
Lead/Zinc
Marble
Soda Ash
Tin
Bismuth
Columbite
Fluorspar
Glass Sand
Nigerian States & Their Mineral Resources
Below is a table showing all the 36 states in Nigeria + the Federal Capital Territory and the natural resources that are found in them.
| | | |
| --- | --- | --- |
| S/N | States | Mineral Resources |
| 1 | ABUJA (F.C.T) | Cassiterite, Clay, Dolomite, Gold, Lead/Zinc, Marble & Tantalite |
| 2 | Abia State | Gold, Lead/Zinc, Limestone, Oil/Gas & Salt |
| 3 | Adamawa State | Bentonite, Gypsum, Kaolin & Magnesite |
| 4 | Akwa Ibom State | Clay, Lead/Zinc, Lignite, Limestone, Oil/Gas, Salt & Uranium |
| 5 | Anambra State | Clay, Glass-Sand, Gypsum, Iron-ore, Lead/Zinc, Lignite, Limestone, Phosphate & Salt |
| 6 | Bauchi State | Gold, Cassiterite (tine ore), Columbite, Gypsum, Wolfram, Coal, Limestone, Lignite, Iron-ore & Clay |
| 7 | Bayelsa State | Clay, Gypsum, Lead/Zinc, Lignite, Limestone, Maganese, Oil/Gas & Uranium |
| 8 | Benue State | Barite, Clay, Coal, Gemstone, Gypsum, Iron-Ore, Lead/Zinc, Limestone, Marble & Salt |
| 9 | Borno State | Bentonite, Clay, Diatomite, Gypsum, Hydro-carbon, Kaolin & Limestone |
| 10 | Cross River State | Barite, Lead/Zinc, Lignite, Limestone, Manganese, Oil/Gas, Salt & Uranium |
| 11 | Delta State | Clay, Glass-sand, Gypsum, Iron-ore, Kaolin, Lignite, Marble & Oil/Gas |
| 12 | Ebonyi State | Gold, Lead/Zinc & Salt |
| 13 | Edo State | Bitumen, Clay Dolomite, Phosphate, Glass-sand, Gold, Gypsum, Iron-ore, Lignite, Limestone, Marble & Oil/Gas |
| 14 | Ekiti State | Feldspar, Granite, Kaolin, Syenite & Tatum |
| 15 | Enugu State | Coal, Lead/Zinc & Limestone |
| 16 | Gombe State | Gemstone & Gypsum |
| 17 | Imo State | Gypsum, Lead/Zinc, Lignite, Limestone, Marcasite, Oil/Gas, Phosphate & Salt |
| 18 | Jigawa State | Butyles |
| 19 | Kaduna State | Amethyst, Aqua Marine, Asbestos, Clay, Flosper, Gemstone, Gold, Graphite, Kaolin, Kyanite, Mica, Rock Crystal, Ruby, Sapphire, Sihnite, Superntinite, Tentalime, Topaz & Tourmaline |
| 20 | Kano | Cassiterite, Copper, Gemstone, Glass-sand, Lead/Zinc, Pyrochinre & Tantalite |
| 21 | Katsina State | Kaolin, Marble & Salt |
| 22 | Kebbi State | Gold |
| 23 | Kogi State | Coal, Dolomite, Feldspar, Gypsium, Iron-ore, Kaolin, Marble, Talc & Tantalite |
| 24 | Kwara State | Cassiterite, Columbite, Feldspar, Gold, Iron-ore, Marble, Mica & Tantalite |
| 25 | Lagos State | Bitumen, Clay & Glass-sand |
| 26 | Nasarawa State | Amethyst (Topaz Garnet), Barytex, Barite, Cassirite, Chalcopyrite, Clay, Columbite, Coking Coal, Dolomite/Marble, Feldspar, Galena, Iron-ore, Limestone, Mica, Salt, Sapphire, Talc, Tantalite, Tourmaline Quartz & Zircon |
| 27 | Niger State | Gold, Lead/Zinc & Talc |
| 28 | Ogun State | Bitumen, Clay, Feldspar, Gemstone, Kaolin, Limestone & Phosphate |
| 29 | Ondo State | Bitumen, Clay, Coal, Dimension Stones, Feldspar, Gemstone, Glass-Sand, Granite, Gypsum, Kaolin, Limestone & Oil/Gas |
| 30 | Osun State | Columbite, Gold, Granite, Talc, Tantalite & Tourmaline |
| 31 | Oyo State | Aqua Marine, Cassiterite, Clay, Dolomite, Gemstone, Gold, Kaolin, Marble, Silimonite, Talc & Tantalite |
| 32 | Plateau State | Barite, Bauxite, Betonite, Bismuth, Cassiterite, Clay, Coal, Emeral, Fluoride, Gemstone, Granite, Iron-ore, Kaolin, Lead/Zinc, Marble, Molybdenite, Phrochlore, Salt, Tantalite/Columbite, Tin & Wolfram |
| 33 | Rivers State | Clay, Glass-Sand, Lignite, Marble & Oil/Gas |
| 34 | Sokoto State | Clay, Flakes, Gold, Granite, Gypsum, Kaolin, Laterite, Limestone, Phosphate, Potash, Silica Sand & Salt |
| 35 | Taraba State | Lead/Zinc |
| 36 | Yobe State | Soda Ash & Tintomite |
| 37 | Zamfara State | Coal, Cotton & Gold |
Sources – nigeria.gov.ng & minesandsteel.gov.ng