GUO transport limited is one of the popular road transport companies in Nigeria.
It was established in 1980 as a division of G.U.Okeke & Sons Ltd and since then, the company has grown to become one of the largest providers of intercity, interstate and inter country (West Africa) road transportation services in Nigeria.
They offer road transport services to more than 200 destinations in Nigeria and Western Africa with modern and comfortable passenger buses.
GUO transport limited is headed by Sir (Dr.) Godwin Ubaka Okeke (GUO) who is also the founder and owner of this company. Dr. Godwin Okeke is a well known and highly respected individual in the Nigerian road transport industry and the country in general.
With GUO, there are various types of buses you can choose from whenever you want to embark on you journey from. These buses come at various ticket prices (the better the bus, the higher the fare), comfort rate, and legroom.
Some of the buses in the GUO transport fleet include
Toyota Sienna 7-Seater Vehicles
Sprinter 14-Seater Buses
Toyota Hiace 15-Seater Buses
Luxurious Buses which range from 33 to 59 Seaters
Services Offered By GUO Transport Limited
Apart from providing intercity, interstate, and inter-country (West Africa) passenger bus services, GUO transport also offers some other services which could be very useful at times.
Below are some of the services offered by GUO Transport aside from the passenger bus service and how you can get started with them.
1) Charter Service
GUO Transport offers one of the best charter services in Nigeria and at affordable prices too.
To rent or charter a bus from GUO Transport Limited, simply visit their services webpage via this link and click on the "Charter Form" then fill the form appropriately and click submit.
A GUO customer care agent will be assigned to you to help you complete your request for the vehicle. Additionally, you can head over to any GUO Transport terminal near you to rent or charter a bus from approved officials who work for GUO.
There is no verified amount for the GUO charter service as the pricing depends on other factors like vehicle type, the number of people who will be using the vehicle, venue of departure, and final destination.
2) Hotel/Airport Pickup
This is pretty much self explanatory on its own. With GUO transport, you can order a vehicle (from the GUO fleet) to come to pick you at your hotel or airport and drop you at any terminal of your choice to kick off your journey.
3) Round Trip Services
GUO Transport Limited also provide round trips/journey to its customers. Round trip simply means a kind of trip where you can travel to a place and back again, along the same route.
Consistently making round trips with G.U.O qualifies customers for mouth-watering discounts.
4) Haulage/Delivery Services
With GUO Haulage/Delivery option, you can send goods to your friends, family, and business partners who stay very far away from you provided the destination is in Nigeria or other West-African countries.
Customers interested in making use of the GUO Transport Ltd haulage or waybill services can do so by;
Visiting any of their terminals to make enquires,
placing a phone call to their company numbers; (+234) 08174594910 and (+234) 08075090620,
sending an email to [email protected] or [email protected]
contacting the company via WhatsApp on; (+234) 09086712710 and (+234) 08144982873.
GUO Transport Online Bus Booking: How To Buy Your Ticket Online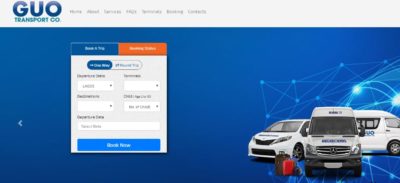 These days, getting a bus ticket can be done easily from the comfort of your home with an internet-enabled smartphone or PC.
GUO like other Nigerian passenger bus transport companies has also made accessing its services easier for passengers by providing the GUO online bus booking platform which can be found on the official website of GUO transport limited.
Below is a detailed guide showing how to book and pay for your bus ticket online via the GUO online booking portal if you consider traveling with GUO Transport Limited.
Step 1
Visit the company's official ticket booking page with this link,
On the website, select your trip type. The two types of trips available on the GUO transport passenger bus service are the "One Way Trip" (only going) and the "Round Trip" (going and coming back).
Select your Departure State and your Departure Terminal (you can choose any terminal as long as it is located in your selected state),
Select your preferred destination,
Then select the number of children who will be traveling with you. Do not select anything if don't plan on traveling with a child or children,
Select your Departure Date and click the "Book Now" button.
Step 2 (Booking)
On the next page, a list of available buses will be shown to you. Other details included on this page are the bus type, the number of seats available, time of departure, and the bus fare for adults and children respectively.
Click on the "View Seat" button to select a seat and click on "Continue".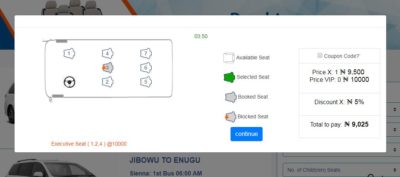 Step 3 (Customer Details)
On this page, you would be asked to input some of your personal details. These details include your full name, phone number, email, gender, date of birth, and details of your next of kin(full name and phone number).
After that, check the "Agree to terms and conditions" box and click on "Process Transaction".
Step 4 (Payment)
Fill in your payment details and click on pay to confirm your order.
GUO Transport Price List (Updated)
Below is the official GUO Transport price list as stated in its official webpage for ticket prices.
Note: These prices are subjected to changes at any time by GUO Transport Limited and prices may change(higher or lower) as this depends on your departure terminal.
Lagos To Other Nigerian Cities
Lagos to Abuja – ₦23,000
Lagos to Port Harcourt – ₦15,500
Lagos to Umuahia – ₦14,500
Lagos to Owerri – ₦13,500
Lagos to Aba – ₦13,500
Lagos to Enugu – ₦14,500
Lagos to Onitsha – ₦12,500
GUO Transport Terminals/Bus-Parks
ACCRA, GHANA
Address – Abossey-Okia Mortuary Road (Opp. 2nd Total Filling Station), by Kaneshi R/About, Ghana.
Phone Number – +233240565854
ABA
Address – 25, Milverton Avenue, Aba
Phone Number – 08075090629
ABAKILIKI
Address – 15, Afikpo Road, Abakaliki.
Phone Number – 08075090650
AGEGE
Address – 3, Agunbiade Oke-koto Street, Agege, Lagos.
Phone Number – 08075090686
AJAH
Address – KM 22, Epe – Expressway, Abraham Adesanya Est. Junction, Ajah, Lagos
Phone Number – 08075090656
AKOKWA, IMO
Address – 10, Orlu Road, by Akokwa Roundabout, beside Akokwa Microfinance Bank, Akokwa
Phone Number – 09053820358
ALABA, LAGOS
Address – Alaba International Mkt, 29, Ojo Ebegbede Road, Opp. Chemist Bus-Stop, Alaba, Lagos
Phone Number – 08075090685
ASABA, DELTA
Address – Asaba – Onitsha Expressway by Head-Bridge, Asaba, Delta State
Phone Number – 08113849230
AWKA, ANAMBRA
Address – St. Michael Shopping Plaza, by Unizik Junction, Awka-Onitsha Enugu Expressway, Awka
Phone Number – 08075090642
AWKUZU
Address – Awkuzu junction
Phone Number – 07035227941
BAUCHI, BAUCHI
Address – Maiduguri bypass, Plaza Hotel, Bauchi.
Phone Number – 08076092462
CELE (OKOTA RD), LAGOS
Address – 164, Okota Road, Lagos
Phone Number – 08075090634
COKER, LAGOS
Address – 36, Opere Street, Wema Bank Bus Stop, Coker, Lagos
Phone Number – 08117000391
EJIBO, LAGOS
Address – 67A, Ikotun-Egbe Road, Opp Power Line B/Stop, Ejigbo.
Phone Number – 08117000390
EKULOBIA, ANAMBRA
Address – 7, Awka Road, Ekwulobia.
Phone Number – 08175090687
ENUGU, ENUGU
Address – 3, Market Road by Holy Ghost Cathedral (Opp. Ogbete Main Mkt.) Enugu.
Phone Number – 08075090636
GOMBE, GOMBE
Address – 1, Church Road, Gombe.
Phone Number – 08075090652
IBA, LAGOS
Address – 1, Ipaye Street, Iba, Lagos
Phone Number – 08075090649
IBADAN, OYO
Address – Samonda/Opp Emmanuel Theology College, Ibadan.
Phone Number – 08075090641
IDDO, LAGOS
Address – 7, Railway Compound (Opp. Police Barracks) Otto Bus Stop.
Phone Number – 08037262521
IHIALA, IMO
Address – 42, Osha Owerri Road by Patigian Hotels Ltd, Ihiala
Phone Number – 08075096032
IKOTUN, LAGOS
Address – 10 Ijegun road, Ikotun
Phone Number – LAGOS 08075090639
IYANA-IPAJA, LAGOS
Address – 167, Abeokuta Expressway Opp Diamond bank Plc. by Iyana Ipaja bus stop, Alimosho LGA
Phone Number – 08150647906
JALINGO, TARABA
Address – Opp. Coca Cola Depot, Along Mile 6, Yola Road.
Phone Number – 08113790580
JIBOWU, LAGOS
Address – 2 Jibowu street along ikorodu express, Jibowu, Lagos
Phone Number – 08075090682
JOS, PLATEAU
Address – Old Railway, Jos
Phone Number – 08075090654
KADUNA, KADUNA
Address – Television Park, Kaduna
Phone Number – 08075090647
KANO, KANO
Address – 14, New Road, Sabongari, Kano
Phone Number – 08075090646
KUBWA, ABUJA
Address – Lora Mall Plaza, Plot No 132 Gado Nasko Road Phase 2 Kubwa, Abuja
Phone Number – 08075093156
MAIDUGURI, BORNO
Address – Kano Station Park.
Phone Number – 08075090644
MARABA, NASSARAWA
Address – Suite 9, Bomma Plaza, Along Abuja-Keffi Exp. Mararaba, Nasarawa State.
Phone Number – 09096450710
MAZA-MAZA, LAGOS
Address – 1st Gate B/Stop Lagos-Badagry Express Way, Lagos.
Phone Number – 08075090683
NNEWI, ANAMBRA
Address – 2, Ibeto Road, Opp.First Bank, Nnewi
Phone Number – 08075090684
OBOLLO AFOR, ENUGU
Address – Obollo-Afor Markudi Exp. Way
Phone Number – 08038047001
OGOJA, CROSS-RIVER
Address – Mh 113 Hospital Road, opp. Blessed Resources int'l oil, Beside EcoBank plc, Igoli, Ogoja
Phone Number – 09053820341
ONITSHA, ANAMBRA
Address – 166, Port Harcourt Rd, Upper Iweka, Onitsha.
Phone Number – 08075090618
ORLU, IMO
Address – Amaifeke – Orlu park, Opp. Olu LGA council office, Orlu, Imo
Phone Number – 09053820348
OWERRI, IMO
Address – 15, Egbu Road, Owerri
Phone Number – 08037758761
PORT HARCOURT, RIVERS
Address – 224/5, Port Harcourt/Aba Road, Opp. Pleasure Park, by Bori Camp Bus stop, Port Harcourt.
Phone Number – 08150647900
SOKOTO, SOKOTO
Address – Central motor park, Sokoto.
Phone Number – 08052772082
TRADE FAIR, LAGOS
Address – International Trade Fair Complex First Entrance/First Gate.
Phone Number – 08075090638
UMUAHIA, ABIA
Address – Uhia General Park, Umuahia
Phone Number – 08113790584
UMUAKA, IMO
Address – 6, Orlu Owerri road, by Afor Umuaka R/About, Njaba LGA, Imo state.
Phone Number – 09053820351
UMUNZE, ANAMBRA
Address – Round About, Umunze
Phone Number – 08076092468
UTAKO, ABUJA
Address – Gouba Plaza, Plot171, Ekukinam Street, Utako District, Abuja.
Phone Number – 08075090643
WARRI, DELTA
Address – 162 Effuru/Sapele Road, Warri.
Phone Number – 08075090627
YOLA, ADAMAWA
Address – Jendutu Park, Yola.
Phone Number – 08075090653
ZARIA, KADUNA
Address – Yankarife Luxury pack, Sabon-gari, Zaria.
Phone Number – 08034973607
ZUBA, ABUJA
Address – Lagos Park, Zuba, Abuja.
Phone Number – 08039154448