To run for any office during elections in Nigeria be it the presidency, senate, house of reps, governorship, etc, you have to be a card-carrying member of a registered political party in the country.
There are currently 18 political parties in Nigeria registered and recognized by the country's apex electoral body – the Independent National Electoral Commission (INEC) and each of these political parties have its respective names, slogans, logo, and national chairmen.
If you're searching for a list of all registered political parties in Nigeria, then you're on the right page. In this article, you will find a comprehensive list of all the 18 registered political parties in Nigeria alongside their symbols (or logo), slogans, national chairmen, and their respective HQ addresses.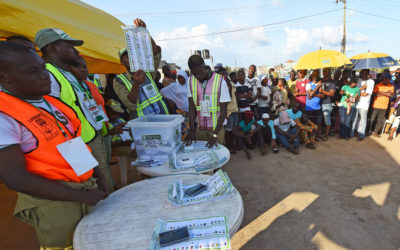 What Is A Political Party?
A political party is simply a group of individuals who share a common goal and that's making themselves relevant in the political scene of any country they're based in.
One of the main goals of a political party is to get one of its own members (usually called party candidates) elected into various public offices in the country.
These public offices include the office of a president, senator, governor, member of the national assembly, member of any state house of assembly, local government chairmen/women, and counselors amongst other elective positions.
All political parties in Nigeria have basic rules and regulations guiding their conduct and these parties have various leaders starting from the highest position which is the National chairman who is the overall head of the party to a mere individual in the party.
Updated List Of The 18 Registered Political Parties in Nigeria
The Independent National Electoral Commission which is the apex electoral body in Nigeria has now reduced the number of political parties in Nigeria from 91 political parties to just 18 parties. Some of these parties were deregistered by INEC because they failed to meet the established criteria set for political parties in the country.
Below is the current list of all the registered Nigerian political parties right now.
A – Accord Party
AA – Action Alliance
AAC – African Action Congress
ADC – African Democratic Congress
ADP – Action Democratic Party
APP – Action People's Party
APC – All Progressives Congress
APGA – All Progressives Grand Alliance
APM – Allied People's Movement
BP – Boot Party
LP – Labour Party
NNPP – New Nigeria People's Party
NRM – National Rescue Movement
PDP – Peoples Democratic Party
PRP – Peoples Redemption Party
SDP – Social Democratic Party
YPP – Young Progressive Party
ZLP – Zenith Labour Party
You can find the official document from INEC showing a list of these parties below.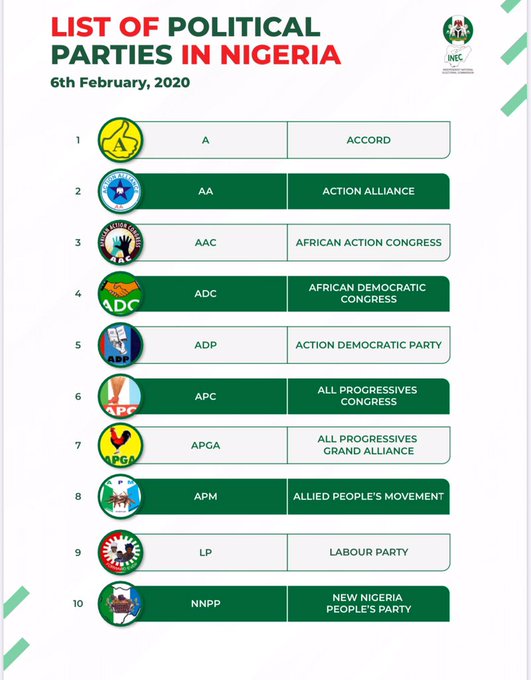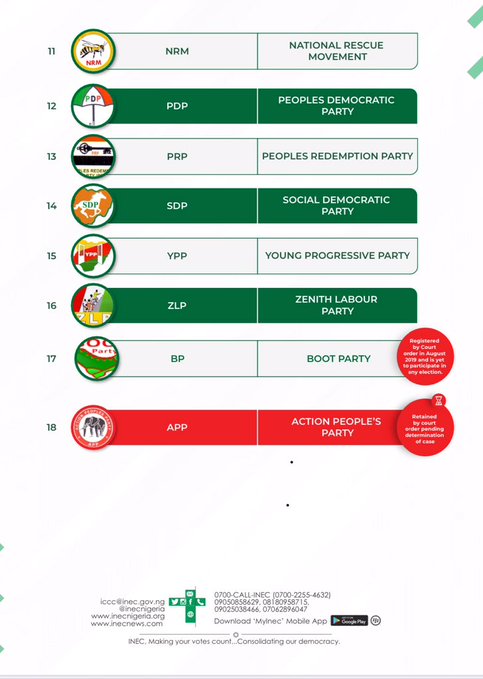 Old List Of All Registered Political Parties in Nigeria & Their Symbols
Below is a list of the 91 political parties in Nigeria. This list will feature the names of these parties, their slogans, national chairmen, logos, and more. It also contains the symbols of political parties in Nigeria.
Abundant Nigeria Renewal Party [ANRP]
National Chairman – Tope Kolade Fasua
Address – Plot 1483, Km 27, Umaru Musa Yar'Adua Carriageway, Airport Road Lugbe Ext., Abuja
Phone Number – 08033110760; 08067766877
Accord [A]
National Chairman – Hon. Mohammad Lawal Nalado
Address – Plot 488, 7th Yauri Street, Area 3, Garki Abuja
Phone Number – 08037038325
Action Alliance [AA]
National Chairman – Barr. Udeze Kenneth
Address – House 57, Opposite Police Post Phase II, Kado Estate, Abuja
Phone Number – 07067277005 / 08036351061
Action Democratic Party [ADP]
National Chairman – Engr. Yabayi V. Sani
Address – Plot 3379A, Mungo Park Close, Off Jesse Jackson Asokoro New Extension-Abuja
Phone Number – 08033001274
Action Peoples Party [APP]
National Chairman – Ikenga Imo Ogochinyere
Address – No. 6 Alexander Crescent Behind Banex Plaza Wuse II Abuja.
Phone Number – 08034913080, 08038665895, 07035090420
Advanced Allied Party [AAP]
National Chairman – Salihu Abdullahi Butu
Address – Plot 1073, Cadastral Zone B08, Jahi District, Abuja
Phone Number – 08035831117, 08034342120
Advanced Congress Of Democrats [ACD]
National Chairman – Alh. Adamu Musa Takai
Address – Suite C9, Patsy Plaza, Plot 359 Ebitu Ukiwe Street, Jabi-Abuja
Phone Number – 07035821690, 08036296112
Advanced Nigeria Democratic Party [ANDP]
National Chairman -Barr. Charles Ogboli
Address – Block 3, Flat 7, Pangshing Close, Off Emeka-Anyaoku Street, Area 11, Garki, Abuja
Phone Number – 07037770755, 08029103280
Advanced Peoples Democratic Alliance [APDA]
National Chairman – Mohammed Shittu Kabiru
Address – No. 10 Fandriana Close Off Oda Crescent Off Daaresalem St, Behind Glo office, Wuse II-Abuja
Phone Number – 08094955555
African Action Congress [AAC]
National Chairman – Dr. Leonard Nzenwa
Address – House 1, 1Q Road Lugbe Federal Housing, Abuja
Phone Number – 08066789611, 08188237529
African Democratic Congress [ADC]
National Chairman – Chief Ralph Okey Nwosu
Address – No. 1 Capital Plaza, Nyanyan-Kuru Road, Abuja.
Phone Number – 08059969415
African Peoples Alliance [APA]
National Chairman – EMMANUEL URHUARHOVIE (ACTING)
Address – 7 Yauri Street, Area 3, Garki, Abuja
Phone Number – 08033493571
All Blending Party [ABP]
National Chairman – Hon. Moses Godia Shipi
Address – Plot 614, Zone B, Apo Resettlement, Abuja
Phone Number – 08171902205; 07036438020
All Grand Alliance Party [AGAP]
National Chairman – Engr. Okey Chikwendu
Address – Plot 586, David Jemibewon Crescent, Gudu District-Abuja
Phone – 08033802712
All Grassroots Alliance [AGA]
National Chairman -Hon. Dr. Olukayode Oshiariyo
Address – Suites 23A-25A Kaitta Mafayas Office Complex, Zone 4, Gwagwalada, FCT. Abuja
Phone Number – 08037870421; 08063844816
All Progressives Congress [APC]
National Chairman -Comr. Adams Aliyu Oshiomhole
Address – No. 40 Blantyre Street, Wuse II, Abuja
Phone Number – 08055503000, 08036210754
All Progressives Grand Alliance [APGA]
National Chairman – Dr. Victor Ikechukwu Oye
Address – 41b Libreville Crescent, Opp. Tulip Press, Aminu Kano Crescent, Wuse 11, Abuja
Phone – 08035897127
Alliance For A United Nigeria [AUN]
National Chairman – Barr. Michael Ndu
Address – No. 22, Egure Street, Off 2nd Avenue, Setraco, Gwarinpa, Abuja
Phone Number – 07066870050
Alliance For Democracy [AD]
National Chairman – Chief Joseph Avazi
Address – 4 Aba Close, Area 8, Garki, Abuja
Phone Number – 08164495673 and 07065850881
Alliance for New Nigeria [ANN]
National Chairman – Dr. Jay Osi Samuel
Address – 20, Durban Street, Wuse 11, Abuja
Phone Number – 08033092478; 08037867880
Alliance National Party [ANP]
| | |
| --- | --- |
| Party Logo | |
| ANP | Alliance National Party |
| National Chairman | Asiwaju Mashood Shittu |
| National Secretary | Abubakar Naibi Bala |
| National Treasurer | Abdulllahi Abubakar Onyeama |
| National Financial Secretary | Abdulaziz Audu |
| National Legal Adviser | Hon. Alfred Okolo |
| Address | No 11, Mahathma Gandi Street, Area 11, Abuja |
| Phone Number | 08036883362, 07032123999 |
Alliance of Social Democrats [ASD]
| | |
| --- | --- |
| Party Logo | |
| ASD | Alliance of Social Democrats |
| National Chairman | Dr. Emeka F. Okengwu |
| National Secretary | Kasima A. Jada |
| National Treasurer | Barr. Nkiru Anosike |
| National Financial Secretary | Gloria Adamu Kachiro |
| National Legal Adviser | |
| Address | No 8, Kayes Street, Off Nouarcitoty Street, Zone 1, Abuja |
| Phone Number | 07032301400, 07030132032 |
Allied Congress Party of Nigeria [ACPN]
| | |
| --- | --- |
| Party Logo | |
| ACPN | Allied Congress Party of Nigeria |
| National Chairman | Alh. Ganiyu O. Galadima |
| National Secretary | Mr Paul Isamade |
| National Treasurer | Chief Angus Uzoamaka |
| National Financial Secretary | |
| National Legal Adviser | Bar, Jide Ayenibiowo |
| Address | Suite D402, Global Plaza, Plot 366, Obafemi Awolowo Way, Jabi Upstairs, Jabi – Abuja |
| Phone Number | 08038313424 |
Allied Peoples Movement [APM]
| | |
| --- | --- |
| Party Logo | |
| APM | Allied Peoples Movement |
| National Chairman | Yusuf Mamman Dantalle |
| National Secretary | Oyadeyi Ayodele Adebayo |
| National Treasurer | Mrs. Rose Dogara Silas Gyar |
| National Financial Secretary | Nasiru Baba |
| National Legal Adviser | |
| Address | No. 26 Ajose Adeogun Street, Utako Abuja (NULGE HOUSE) |
| Phone Number | 08033043791, 08055108331 |
Alternative Party of Nigeria [APN]
| | |
| --- | --- |
| Party Logo | |
| APN | Alternative Party of Nigeria |
| National Chairman | Bilkisu Gambari |
| National Secretary | Sule Gise |
| National Treasurer | Hassan Kamal Bashir |
| National Financial Secretary | Hauwa Yahaya |
| National Legal Adviser | Emmanuel Ogwuche |
| Address | Block A, Suite 24 – 25 Efab Mall Extension Area 11, Garki Abuja |
| Phone Number | 08089229922, 08033491611 |
Better Nigeria Progressive Party [BNPP]
| | |
| --- | --- |
| Party Logo | |
| BNPP | Better Nigeria Progressive Party |
| National Chairman | Prof. Godswill Iheanyi chukwu Nnaji |
| National Secretary | Alh. Iliyasu Abdu Barde |
| National Treasurer | Ejimozor Obinna John |
| National Financial Secretary | Babatunde Omolosho Tayo |
| National Legal Adviser | Barr. Ngozi Nwodo Ibekwe |
| Address | Block 5, Lokoja Street Area 8 Garki Abuja |
| Phone Number | 08037881988, 07066451244 |
Change Advocacy Party [CAP]
| | |
| --- | --- |
| Party Logo | |
| CAP | Change Advocacy Party |
| National Chairman | Amb. Abah Lewis Elaigwu |
| National Secretary | Elder Mike Omohimua |
| National Treasurer | Kantiok Peter Luke |
| National Financial Secretary | Effiong Akpan Okoro |
| National Legal Adviser | Barr. Joe Kekong |
| Address | 9 Abdou Diof Off Kwame Nkruma St, Asokoro, Abuja, Nigeria |
| Phone Number | 08176558660, 08023500479 |
Change Nigeria Party [CNP]
| | |
| --- | --- |
| Party Logo | |
| CNP | Change Nigeria Party |
| National Chairman | Alhaji. Usman Abdullahi. I. Aliyu |
| National Secretary | Henry Bassey Udoistre |
| National Treasurer | Stephen Dawat |
| National Financial Secretary | Aboki Wunuji |
| National Legal Adviser | Barr. Chinuwaba Victor |
| Address | 279 Mike Okoronkwo Close, 3rd Avenue Gwarinpa Estate FCT, Abuja |
| Phone Number | 08065564644, 08054773789 |
Coalition for Change [C4C]
National Chairman –
Address –
| | |
| --- | --- |
| Party Logo | |
| C4C | Coalition for Change |
| National Chairman | RT. Hon. Dr. Geff Chizee Ojinika |
| National Secretary | Peter Ogbaje Paul |
| National Treasurer | Oludolapo Mercy Adeyanju |
| National Financial Secretary | Alome Dominic Oluwa |
| National Legal Adviser | Onyekuru Alex Ikechukwu |
| Address | Block 3, No. 49 Lake Chad Crescent, Maitama, Abuja |
| Phone Number | 08033273950; 08077855110 |
Congress of Patriots [COP]
| | |
| --- | --- |
| Party Logo | |
| COP | Congress of Patriots |
| National Chairman | Mrs. Joy Ada Onyesoh |
| National Secretary | Mr. Olusola Ayorinde Odeja |
| National Treasurer | Mrs. Olivia Ndidi Oseji |
| National Financial Secretary | Isi Ikhimiukor |
| National Legal Adviser | Zariyatu Abubakar |
| Address | Flat 3, Third Floor, Busy Mart.Plaza, Plot 503, Obafemi Awolowo Way No 44 Ebitu Ukiwe Street, Jabi Abuja |
| Phone Number | 08033134762, 08033322780 |
Democratic Alternative [DA]
| | |
| --- | --- |
| Party Logo | |
| DA | Democratic Alternative |
| National Chairman | Prince frank Ukonga |
| National Secretary | Hon. hadizatu Idris Usman |
| National Treasurer | Pastor Rueben Igboji |
| National Financial Secretary | Rev Peter Adebiyi |
| National Legal Adviser | Barr. Simon Imoisi |
| Address | Suite A-60 Bannex Plaza Plot 750 Aminu Kano Crescent Abuja |
| Phone Number | 08023423470 |
Democratic Peoples Congress [DAC]
| | |
| --- | --- |
| Party Logo | |
| DPC | Democratic Peoples Congress |
| National Chairman | Rev. Olusegun Peters |
| National Secretary | Alh Mohammed Lawal |
| National Treasurer | Engr. William Awosola |
| National Financial Secretary | Mrs. Funmi Odutola |
| National Legal Adviser | Barr. (Mrs) Chinenye Felicia Alli |
| Address | Global Plaza, Plot 366, Obafemi Awolowo Way, Jabi-Abuja |
| Phone Number | 08038308479 |
Democratic Peoples Party [DPP]
| | |
| --- | --- |
| Party Logo | |
| DPP | Democratic Peoples Party |
| National Chairman | Mr. Garshon Benson |
| National Secretary | Hon. Nafiu Bala Gombe |
| National Treasurer | Mr. Julius O. Bobbi |
| National Financial Secretary | Ismail Danladi Ilu |
| National Legal Adviser | Barr. Tajudeen Afolabi |
| Address | No. 11 Nouakchott Street Zone 1, Wuse, Abuja FCT |
| Phone Number | 07030964011 |
Freedom and Justice Party [FJP]
| | |
| --- | --- |
| Party Logo | |
| FJP | Freedom and Justice Party |
| National Chairman | Dr. Onwubuya John Abraham |
| National Secretary | Aisha Amina Mohammed Eleyo |
| National Treasurer | Chioma Obot |
| National Financial Secretary | Dawodu Adetunji Success (JP) |
| National Legal Adviser | Omar Musa |
| Address | Glass House 3 & 4 Anon Plaza Gudu District, FCT, Abuja |
| Phone Number | 09054546328; 08037003214 |
Fresh Democratic Party [FRESH]
| | |
| --- | --- |
| Party Logo | |
| FRESH | Fresh Democratic Party |
| National Chairman | REV. CHRIS OKOTIE |
| National Secretary | MR. FELA BINUTU |
| National Treasurer | Mrs. Jide Ologeh |
| National Financial Secretary | |
| National Legal Adviser | Barr. Kola Dopamu |
| Address | No. 4 Parhe Close, Aguiyi Ironsi Street Maitama – Abuja |
| Phone Number | 08033651678 |
Grassroots Development Party of Nigeria [GDPN]
| | |
| --- | --- |
| Party Logo | |
| GDPN | Grassroots Development Party of Nigeria |
| National Chairman | Amb. Odion Cedrack Okpebholo |
| National Secretary | Ismaila Shauzaza |
| National Treasurer | Ojo Abiola Helen (Mrs.) |
| National Financial Secretary | Hon. James Rugu |
| National Legal Adviser | Barrister Stephen Jube Zira |
| Address | Nino House, No. 1, Engr. Linus Okpebholo Street, Off Bwari Dutse, FCT |
| Phone Number | 07039889441; 08052281862 |
Green Party of Nigeria [GPN]
| | |
| --- | --- |
| Party Logo | |
| GPN | Green Party of Nigeria |
| National Chairman | Chief Sam Eke |
| National Secretary | Hajara Ishaku |
| National Treasurer | Mrs. Adebesin Bosede |
| National Financial Secretary | Hadiza Mali |
| National Legal Adviser | Barr. Olenka Udenze |
| Address | No, 5 Church Avenue Old School Bus Stop Orozo Karshi Road FCT Abuja |
| Phone Number | 08065933765 and 08027142078 |
Hope Democratic Party [HDP]
| | |
| --- | --- |
| Party Logo | |
| HDP | Hope Democratic Party |
| National Chairman | CHIEF AMBROSE A. OWURU |
| National Secretary | |
| National Treasurer | |
| National Financial Secretary | |
| National Legal Adviser | |
| Address | PLOT 43 GWARINPA ESTATE ABUJA. |
| Phone Number | 080511776052 AND 08033122272 |
Independent Democrats [ID]
| | |
| --- | --- |
| Party Logo | |
| ID | Independent Democrats |
| National Chairman | Edozie Madu |
| National Secretary | Tobi Adeniyi |
| National Treasurer | Ahanmisi Izegwuma Abigail |
| National Financial Secretary | Whetode Desire |
| National Legal Adviser | Charles Ibeh |
| Address | 1385C Gurara Street, Off IBB Way, Maitama, Abuja |
| Phone Number | 08065800000 |
Justice Must Prevail Party [JMPP]
| | |
| --- | --- |
| Party Logo | |
| JMPP | Justice Must Prevail Party |
| National Chairman | Dr. Olusegun Ijagbemi |
| National Secretary | Hon. David Banwo Olagoke |
| National Treasurer | Maj. Gen. (Rtd) Dr. A. E. Life Ajemba |
| National Financial Secretary | |
| National Legal Adviser | Barr. Bassey Etukudo |
| Address | No. 2 Calabar Street, Opp Naval Headquarter, Area 7, Garki, Abuja |
| Phone Number | 08174383651, 08036824194 |
Kowa Party [KP]
| | |
| --- | --- |
| Party Logo | |
| KP | Kowa Party |
| National Chairman | Alhaji Saidu Bobboi |
| National Secretary | Mark Adebayo |
| National Treasurer | Abdullahi Dahiru Bala |
| National Financial Secretary | Chinyere Egbo Anni |
| National Legal Adviser | Barr. Dan Onyeonagu |
| Address | House 22, 23rd Avenue, Phase 1, After Mr Biggs, Federal Housing Authority (FHA), Luge, FCT, Abuja. |
| Phone Number | 07037278034 |
Labour Party [LP]
| | |
| --- | --- |
| Party Logo | |
| LP | Labour Party |
| National Chairman | Alh. Abdukadir Abdulsalam (Baraden Paiko) |
| National Secretary | Julius Aburi (Acting) |
| National Treasurer | Mrs. Oluchi Operah |
| National Financial Secretary | Hajiya Hadiza Kishimi |
| National Legal Adviser | Barr. Akingbade Oyelekan |
| Address | 29 Oke Agbe Street, Off Ladoke Akintola Boulevard, Garki II Abuja FCT. |
| Phone Number | 08033005810, 07033327679 |
Legacy Party of Nigeria [LPN]
| | |
| --- | --- |
| Party Logo | |
| LPN | Legacy Party of Nigeria |
| National Chairman | Ahmed Mustpha Wushishi |
| National Secretary | Onwuchelwa Onwuchelwa |
| National Treasurer | Usman Musa |
| National Financial Secretary | Awojobi Akuladi Waheem |
| National Legal Adviser | Hussaini Omar Garba |
| Address | Flat 4, No 47 Yaounde Street, Zone 6, Wuse, Abuja |
| Phone Number | 08132825108; 08038932775 |
Liberation Movement [LM]
| | |
| --- | --- |
| Party Logo | |
| LM | Liberation Movement |
| National Chairman | Kriz David |
| National Secretary | Adama Gabriel Akutsam |
| National Treasurer | Denis Lungu |
| National Financial Secretary | Victor Abiola Sesere |
| National Legal Adviser | Nelson Ilebor Kebordih |
| Address | Suite D5, Victory Plaza, 7 Onitsha Crescent, Off Gimbiya Street Area 11, Abuja FCT. |
| Phone Number | 08034033979, 08065607242 |
Mass Action Joint Alliance [MAJA]
| | |
| --- | --- |
| Party Logo | |
| MAJA | Mass Action Joint Alliance |
| National Chairman | Chief Mrs. Chika Ibeneme |
| National Secretary | Mr. Aliyu Ibrahim |
| National Treasurer | Bamgboye Kashimawo Adeoye |
| National Financial Secretary | Hon. Guwo Lawan Abba |
| National Legal Adviser | Mercy Emmanuel |
| Address | House No. 24, Road 15, Efab City Estate, Life Camp, Abuja |
| Phone Number | 08033264278; 08032350671 |
Masses Movement of Nigeria [MMN]
Party Logo
MMN
Masses Movement of Nigeria
National Chairman
National Secretary
National Treasurer
National Financial Secretary
National Legal Adviser
Address
Phone Number
Mega Party of Nigeria [MPN]
| | |
| --- | --- |
| Party Logo | |
| MPN | Mega Party of Nigeria |
| National Chairman | Hon. Hamisu Santuraki |
| National Secretary | Ag, Otumba Adeleke Adekoya |
| National Treasurer | J.P Ishaku Dallo |
| National Financial Secretary | Sanni A. Kanlari |
| National Legal Adviser | Barr. Oguntimering Adelaja |
| Address | 1st Avenue, House 53, FHA, Lugbe, Abuja. |
| Phone Number | 07030147731 |
Modern Democratic Party [MDP]
| | |
| --- | --- |
| Party Logo | |
| MDP | Modern Democratic Party |
| National Chairman | Adebukunyi Olateru-Olagbeg |
| National Secretary | Adetoro Adetoun Fowoshere |
| National Treasurer | Abayomi Olofinwa |
| National Financial Secretary | Ibrahim Khahil Ahmed |
| National Legal Adviser | Ogunpe Olatunji |
| Address | Suite B19 Discovery Mall Adeola Adetokunbo Wuse 11, Abuja |
| Phone Number | 08093894841; 08080805809 |
Movement for the Restoration and Defence of Democracy [MRDD]
| | |
| --- | --- |
| Party Logo | |
| MRDD | Movement for the Restoration and Defence of Democracy |
| National Chairman | Danjuma Muhammed |
| National Secretary | Emmanuel Udeogu |
| National Treasurer | Ibrahim Gambo |
| National Financial Secretary | Victor Ekwueme |
| National Legal Adviser | Barr. Nicholas Eku |
| Address | No 11, Asa Street Maitama Abuja |
| Phone Number | 08169626633, 07033155106 |
National Action Council [NAC]
| | |
| --- | --- |
| Party Logo | |
| NAC | National Action Council |
| National Chairman | Hajiya Dr. Rabia H.Y. Cengiz |
| National Secretary | Comrade Remi Ayanlade |
| National Treasurer | Mr. Willie William |
| National Financial Secretary | Mazi Godspower Obi Okoro |
| National Legal Adviser | Mr. Tohwo Oseruvwoja Esq. |
| Address | 3rd House Susan Barca Close Opp. 4th Avenue by EcoBank, Gwarinpa Estate Abuja |
| Phone Number | 08060754328, 09053442208 |
National Conscience Party [NCP]
| | |
| --- | --- |
| Party Logo | |
| NCP | National Conscience Party |
| National Chairman | Yunusa Tanko |
| National Secretary | Ayodele Akele |
| National Treasurer | V.C. Odumejemba Esq |
| National Financial Secretary | Amina Mohammed |
| National Legal Adviser | Barr. Jonathan Edehbru |
| Address | 1, Younde Street, Wuse Zone 6, Abuja |
| Phone Number | 08033144131 |
National Democratic Liberty Party [NDLP]
Party Logo
NDLP
National Democratic Liberty Party
National Chairman
Alh. Umar Mohammed Maizabura
National Secretary
Mallam Hussaini Yusuf
National Treasurer
National Financial Secretary
National Legal Adviser
Address
Phone Number
National Interest Party [NIP]
| | |
| --- | --- |
| Party Logo | |
| NIP | National Interest Party |
| National Chairman | Atuedide Eunice Uche Julian |
| National Secretary | Oluwafikayo Seun Adeyemi |
| National Treasurer | Hadiza Hussien Abdullahi |
| National Financial Secretary | Abdulkadir Bello Ahmed |
| National Legal Adviser | Sani Abass |
| Address | Suite 101, NCWS Building, Area 11, Garki, FCT, Abuja |
| Phone Number | 08144246272; 08034888493 |
National Rescue Movement [NRM]
| | |
| --- | --- |
| Party Logo | |
| NRM | National Rescue Movement |
| National Chairman | Sen. Saidu Muhammed Dansadau |
| National Secretary | Barr. Chinedum Odenyi |
| National Treasurer | Umar Mustapha |
| National Financial Secretary | Aliyu Safiyanu |
| National Legal Adviser | Olayinka Adebola Abiose |
| Address | Plot 188 American International School Rd, Off Oladipo Diva Express way by Games Village, Durumi District, Abuja |
| Phone Number | 08033117340; 08037038721 |
National Unity Party [NUP]
Party Logo
NUP
National Unity Party
National Chairman
Idreez Alabi
National Secretary
Mallam Isa Dansarki
National Treasurer
National Financial Secretary
National Legal Adviser
Address
64 Cresent, House 3 after Charly Boy Road Abuja Model City, Gwarinpa Abuja
Phone Number
New Generation Party of Nigeria [NGP]
| | |
| --- | --- |
| Party Logo | |
| NGP | New Generation Party of Nigeria |
| National Chairman | Dr. Yakubu Shendam |
| National Secretary | Alh. Mohammed Abdu |
| National Treasurer | Alexander Naalong Danjuma |
| National Financial Secretary | Alh. Shettima Naramai |
| National Legal Adviser | Gbehe Cornelius Aondowase |
| Address | No 9B, 61/63 Road, Aliko Dangot Crescent, Gwarinpa-Abuja |
| Phone Number | 08184995001, 08060519785 |
New Nigeria Peoples Party [NNPP]
| | |
| --- | --- |
| Party Logo | |
| NNPP | New Nigeria Peoples Party |
| National Chairman | Dr. B.O Aniebonam |
| National Secretary | Major Gilbert Agbo |
| National Treasurer | Nasir A. Abubakar |
| National Financial Secretary | Eugene Nweke |
| National Legal Adviser | Bar. Nura Abdullahi |
| Address | Suite FF 1-5 Willands Plaza Plot 511, Herbert Macaulay Way, Wuse Zone 4, Abuja. |
| Phone Number | 08037133594 |
New Progressive Movement [NPM]
| | |
| --- | --- |
| Party Logo | |
| NPM | New Progressive Movement |
| National Chairman | Mustapha Bala Getso |
| National Secretary | Umma Abdullahi |
| National Treasurer | Eze Charles Chinedu |
| National Financial Secretary | Gift Yusuf Shallangwa |
| National Legal Adviser | Barr. Flurenshou Olufemi |
| Address | Hillside Plaza, 2nd Floor, Room A202 AYA Junction, Asokoro, Abuja |
| Phone Number | 08033668262; 07037477315 |
Nigeria Community Movement Party [NCMP]
| | |
| --- | --- |
| Party Logo | |
| NCMP | Nigeria Community Movement Party |
| National Chairman | Ademola Babatunde Abidemi |
| National Secretary | Ibrahim Mohammed |
| National Treasurer | Adamu Abubakar |
| National Financial Secretary | Amina Hassan |
| National Legal Adviser | John Otu Oshita Esq |
| Address | 3 A, Close, 36 Road 3rd Avenue Gwarinpa, FCT Abuja |
| Phone Number | 07032978102, 08055322191 |
Nigeria Democratic Congress Party [NDCP]
| | |
| --- | --- |
| Party Logo | |
| NDCP | Nigeria Democratic Congress Party |
| National Chairman | Charles Idehen |
| National Secretary | Abdulkareem Salisu Matori |
| National Treasurer | Esther Nkese Nya Effiom |
| National Financial Secretary | Peacock Ise Ogbebor |
| National Legal Adviser | Oluwaseto Oluseto Franklin |
| Address | 28 Tunis Street Wuse Zone 6 |
| Phone Number | 09025288682, 08137855974 |
Nigeria Elements Progressive Party [NEPP]
| | |
| --- | --- |
| Party Logo | |
| NEPP | Nigeria Elements Progressive Party |
| National Chairman | Donatus Okeke |
| National Secretary | Usman Mamman Katsina |
| National Treasurer | |
| National Financial Secretary | |
| National Legal Adviser | |
| Address | |
| Phone Number | |
Nigeria for Democracy [NFD]
| | |
| --- | --- |
| Party Logo | |
| NFD | Nigeria for Democracy |
| National Chairman | Dr. Asukwo Mendie Archibong |
| National Secretary | Mrs. Ite Donald Ekpo |
| National Treasurer | Mrs. Gift Uchechi Emuka |
| National Financial Secretary | Miss. Atebi Oyanmu Martha |
| National Legal Adviser | Mr. Patrick Effiong Etim |
| Address | 24B, Colorado Close, Maitama, Abuja |
| Phone Number | 08181904364, 0703146900 |
Nigeria Peoples Congress [NPC]
| | |
| --- | --- |
| Party Logo | |
| NPC | Nigeria Peoples Congress |
| National Chairman | Barr. Suleiman Ahmed Akasawua |
| National Secretary | Abdulmalik Abdulrahman |
| National Treasurer | Olayinka Olajide |
| National Financial Secretary | Nelson Samuel |
| National Legal Adviser | Barr. Timothy Kyuga |
| Address | Plot No. 503, Abogo Largema Street, Central Businesss District, Abuja. |
| Phone Number | 08035963971, 08036040870 |
People For Democratic Change [PDC]
| | |
| --- | --- |
| Party Logo | |
| PDC | People For Democratic Change |
| National Chairman | Barrister Igwe Emeka Benjamin |
| National Secretary | Mr. Amos Elegbe |
| National Treasurer | Chief Udo Uduak Asuquo |
| National Financial Secretary | Charles Okoroafor |
| National Legal Adviser | Barr. Ayo Omoleupon |
| Address | Address: No. 5 Church Avenue, By Old School Bus Stop Orozo/Karshi, Abuja |
| Phone Number | 08023645376 |
Peoples Coalition Party [PCP]
| | |
| --- | --- |
| Party Logo | |
| PCP | Peoples Coalition Party |
| National Chairman | Don Anthony Chukwuma Harmattan |
| National Secretary | Felix Ape Sesugh |
| National Treasurer | Godwill Chima Benjamin |
| National Financial Secretary | Akinade Akeem Kolawole |
| National Legal Adviser | |
| Address | 8, Drive 1, Corner shop, Prince, Princess Estate, Phase 1, Off Gudu Road, Abuja |
| Phone Number | 08181782777, 08062440548 |
Peoples Democratic Movement [PDM]
| | |
| --- | --- |
| Party Logo | |
| PDM | Peoples Democratic Movement |
| National Chairman | Bashir Yusuf Ibrahim |
| National Secretary | Dr. Joseph O. Akinwumi |
| National Treasurer | Gagogo Emmanuel |
| National Financial Secretary | Aku Cecilia Betzom |
| National Legal Adviser | Barr. Kabiru Umaru Dodo |
| Address | 72 Mississippi Street, Maitama – Abuja |
| Phone Number | 08082678233 |
Peoples Democratic Party [PDP]
Party Logo
PDP
Peoples Democratic Party
National Chairman
Prince Uche Secondus
National Secretary
Sen. Umaru Ibrahim Tsauri
National Treasurer
Hon. Aribisala Adewale
National Financial Secretary
Abdullahi Hussaini Maibasira
National Legal Adviser
Barr. Emmanuel Enoidem
Address
Plot 1970 Wadata Plaza, Michael Okpara Way, Wuse Zone 5, Abuja.
Phone Number
Peoples Party of Nigeria [PPN]
| | |
| --- | --- |
| Party Logo | |
| PPN | Peoples Party of Nigeria |
| National Chairman | Hon. Razak Eyiowuawi |
| National Secretary | Alh. Garba Ibrahim Yakasai |
| National Treasurer | Nwosu Sunday F. |
| National Financial Secretary | Alh. Saidu Bello Abubakar |
| National Legal Adviser | Barr. Onwusor Chiamaka |
| Address | House 43, 6th Avenue, Gwarimpa Estate, Abuja Model City. |
| Phone Number | 07037674661/ 08062471148 |
Peoples Progressive Party [PPP]
| | |
| --- | --- |
| Party Logo | |
| PPP | Peoples Progressive Party |
| National Chairman | Dr. Damian Uzoma Ogbonna |
| National Secretary | Mrs. Vera Oseni |
| National Treasurer | Hon. Richard Benson Echigbue |
| National Financial Secretary | Abubakar Aliyu Ibrahim |
| National Legal Adviser | Barr. Chibuzor C. Ezike |
| Address | Block D, Suite 20 Efab Plaza Extension Area 11 Garki Abuja |
| Phone Number | 08034213272, 07033777573 |
Peoples Redemption Party [PRP]
Party Logo
PRP
Peoples Redemption Party
National Chairman
National Secretary
National Treasurer
National Financial Secretary
National Legal Adviser
Address
Phone Number
People's Trust [PT]
| | |
| --- | --- |
| Party Logo | |
| PT | People's Trust |
| National Chairman | Ahmed Muh Sani |
| National Secretary | Umar Khalifa Mohammed |
| National Treasurer | Aliyu Abubakar |
| National Financial Secretary | Manir Tukur |
| National Legal Adviser | Dayo Godwin |
| Address | |
| Phone Number | 07037126716, 08166814254 |
Progressive Peoples Alliance [PPA]
| | |
| --- | --- |
| Party Logo | |
| PPA | Progressive Peoples Alliance |
| National Chairman | Chief Peter Ameh |
| National Secretary | Kehinde Edun |
| National Treasurer | Mrs. Akpa Elizabeth |
| National Financial Secretary | Lawrence Ade |
| National Legal Adviser | Otanwa John |
| Address | Warri Street, off Emeka Anyoku Street, Area 11, Garki, Abuja |
| Phone Number | 08023137834, 08094472176 |
Providence People's Congress [PPC]
| | |
| --- | --- |
| Party Logo | |
| PPC | Providence People's Congress |
| National Chairman | Benson Adeton |
| National Secretary | Sanjo Hamzat |
| National Treasurer | Okpala Emeka Kenneth |
| National Financial Secretary | Olokode Adenike |
| National Legal Adviser | |
| Address | |
| Phone Number | 08037141200; 08035854586 |
Re-build Nigeria Party [RBNP]
| | |
| --- | --- |
| Party Logo | |
| RBNP | Re-build Nigeria Party |
| National Chairman | Moyor Chief Japhet Anyanwu |
| National Secretary | Hon. Irmiya Salihu |
| National Treasurer | Silifat Usman Oyiza |
| National Financial Secretary | Hon. Larry Badmus |
| National Legal Adviser | Barr. Nweke Chukwudi |
| Address | House No. 26 Ficus Benjamin Street, Gaduwa Estate, Abuja, FCT |
| Phone Number | 08033410691; 08033921880 |
Reform and Advancement Party [RAP]
| | |
| --- | --- |
| Party Logo | |
| RAP | Reform and Advancement Party |
| National Chairman | Israel Nonyerem Davidson |
| National Secretary | Nwobi Emmanuel |
| National Treasurer | Inyang Xavier Inyang |
| National Financial Secretary | Bala Alhassan Mohammed |
| National Legal Adviser | |
| Address | Plot 67 Cascurina close, Off Bayelsa Court Gaduwa Estate, Gudu District, Abuja |
| Phone Number | 08160824732, 07030676267 |
Restoration Party of Nigeria [RP]
| | |
| --- | --- |
| Party Logo | |
| RP | Restoration Party of Nigeria |
| National Chairman | Nsehe Nseobong |
| National Secretary | Zino Aliku |
| National Treasurer | Abubakar Jaafar Dabawa |
| National Financial Secretary | Joy Joseph Omor |
| National Legal Adviser | F. O. Wainwei |
| Address | 5 Jerusalem Street, Old Kutunku Gwagwalada, Abuja, Nigeria |
| Phone Number | 09035598566; 08036977730 |
Save Nigeria Congress [SNC]
| | |
| --- | --- |
| Party Logo | |
| S.N.C | Save Nigeria Congress |
| National Chairman | Thomas Ayo – Da-silva |
| National Secretary | Abayomi Runsewe |
| National Treasurer | Agene Victoria Onyaole |
| National Financial Secretary | |
| National Legal Adviser | Barr. Folani Adedayo Oluwaleyi |
| Address | House no. 152, Zone E, Apo Resettlement Abuja |
| Phone Number | 08098654654, 08088233003 |
Social Democratic Party [SDP]
| | |
| --- | --- |
| Party Logo | |
| SDP | Social Democratic Party |
| National Chairman | Prof. Tunde Adeniron |
| National Secretary | Alh. Shehu Musa Gabam |
| National Treasurer | Chief. Clarkson Nnaji |
| National Financial Secretary | Rt. Hon Kehinde Ayoola |
| National Legal Adviser | Bar. Omale Omale |
| Address | 16 Nairobi Street, Off Parakou Estate, Wuse II, Abuja. |
| Phone Number | 08060856403, 0809920028 |
Socialist Party of Nigeria [SPN]
| | |
| --- | --- |
| Party Logo | |
| SPN | Socialist Party of Nigeria |
| National Chairman | Mrs. Segun Sango |
| National Secretary | Mr. Chinedu Bosah |
| National Treasurer | Basir Razaq Tanko |
| National Financial Secretary | |
| National Legal Adviser | |
| Address | Flat 2, Plot 29, First Avenue, Federal Housing Authority (FHA) Estate Karu-Abuja |
| Phone Number | 08023180522 |
Sustainable National Party [SNP]
| | |
| --- | --- |
| Party Logo | |
| SNP | Sustainable National Party |
| National Chairman | Thomas Ayo – Da-silva |
| National Secretary | Abayomi Runsewe |
| National Treasurer | Agene Victoria Onyaole |
| National Financial Secretary | |
| National Legal Adviser | Barr. Folani Adedayo Oluwaleyi |
| Address | House no. 152, Zone E, Apo Resettlement Abuja |
| Phone Number | 08098654654, 08088233003 |
United Democratic Party [UDP]
| | |
| --- | --- |
| Party Logo | |
| UDP | United Democratic Party |
| National Chairman | Barr. Godson Okoye |
| National Secretary | Abdul Razaq Yusuf |
| National Treasurer | National Financial Secretary – VACANT |
| National Financial Secretary | |
| National Legal Adviser | Tony Ogbulafor |
| Address | 6 Gnassingbe Eyedema Street, Asokoro District, Abuja |
| Phone Number | 08033113639/ 08055302788 |
United Patriots [UP]
| | |
| --- | --- |
| Party Logo | |
| UP | United Patriots |
| National Chairman | Barr. Ezeobika Chukwudi Echezoba |
| National Secretary | Ngozi Orabueze |
| National Treasurer | Soraya Haruwau Ojebe |
| National Financial Secretary | Barr. Olayinka Ola Daniels |
| National Legal Adviser | Barr. Olayinka Ola Daniels |
| Address | No 2, Akirin Ade Street, Off Katampe Junction Mpape 2, FCT Abuja |
| Phone Number | 08035574437, 08037266193 |
United Peoples Congress [UPC]
| | |
| --- | --- |
| Party Logo | |
| U.P.C | United Peoples Congress |
| National Chairman | Kenneth C. Ibekalu |
| National Secretary | Mrs. Mariam Ajeibi |
| National Treasurer | |
| National Financial Secretary | Chukwu Isabella |
| National Legal Adviser | Isah Muhammed Al-Hassan |
| Address | No 2, Masukwu Close, Wuse 11, Abuja |
| Phone Number | 08033013624, 07067580752 |
United Progressive Party [UPP]
| | |
| --- | --- |
| Party Logo | |
| U.P.C | United Peoples Congress |
| National Chairman | Kenneth C. Ibekalu |
| National Secretary | Mrs. Mariam Ajeibi |
| National Treasurer | |
| National Financial Secretary | Chukwu Isabella |
| National Legal Adviser | Isah Muhammed Al-hassan |
| Address | No 2, Masukwu Close, Wuse 11, Abuja |
| Phone Number | 08033013624, 07067580752 |
We The People Nigeria [WTPN]
| | |
| --- | --- |
| Party Logo | |
| WTPN | We The People Nigeria |
| National Chairman | Prof. Peter Nwangwu |
| National Secretary | Alh. Dr. Idris Musa |
| National Treasurer | Dr. Greg Asoegwu |
| National Financial Secretary | |
| National Legal Adviser | |
| Address | 9B Constitution Avenue GaduwaEstate, Gudu Abuja |
| Phone Number | 08060493334 |
Yes Electorates Solidarity [YES]
| | |
| --- | --- |
| Party Logo | |
| YES | Yes Electorates Solidarity |
| National Chairman | Alistair Soyode |
| National Secretary | Elem Chukwuemeka |
| National Treasurer | Festus Fifen |
| National Financial Secretary | Ossom Rapheal |
| National Legal Adviser | Olaniyi Ayodele Francis |
| Address | 88 Yaounde Street, Zone 6, Wuse, Abuja |
| Phone Number | 08051161236, 08065661508 |
Young Democratic Party [YDP]
| | |
| --- | --- |
| Party Logo | |
| YDP | Young Democratic Party |
| National Chairman | Barr. Georgina Dakpokpo |
| National Secretary | Hon. Bolaji Oni |
| National Treasurer | Hon. Adex Adetula |
| National Financial Secretary | Hon. Ahmad Kawu |
| National Legal Adviser | Bar. Ugo Nwofor |
| Address | No. 11, B5 Close, Citec Mount Pleasant Estate, Mbora District, Abuja. |
| Phone Number | 09098432977 |
Young Progressive Party [YPP]
| | |
| --- | --- |
| Party Logo | |
| YPP | Young Progressive Party |
| National Chairman | Comrade Bishop Amakiri |
| National Secretary | Barr. Vidiyeno Bamaiyi |
| National Treasurer | Usman Haruna |
| National Financial Secretary | Azeez Adewale Ahmed |
| National Legal Adviser | Tanze Benjamin Makoma |
| Address | Block 10, Flat No. 1 Benue Crescent, Area 1, Garki Abuja |
| Phone Number | 08100005566, 07050505010 |
Youth Party [YP]
| | |
| --- | --- |
| Party Logo | |
| YP | Youth Party |
| National Chairman | Mr. Chukwudi Onyemaechi Adiukwu |
| National Secretary | Mr. Mujaheed Salisu Ahmad |
| National Treasurer | Mr. Mohammed Auwalu Aminu |
| National Financial Secretary | Dr. Ifeyinwa Chizoba Simone Aniebo |
| National Legal Adviser | Mr. Oghenekeuwe Okpobia |
| Address | 6, Bamako Crescent Zone 1, Wuse, FCT, Abuja |
| Phone Number | 08037028390, 08136804110 |
Zenith Labour Party [ZLP]
| | |
| --- | --- |
| Party Logo | |
| ZLP | Zenith Labour Party |
| National Chairman | Chief. Dan Nwanyanwu |
| National Secretary | Yahaya Makama |
| National Treasurer | Hassana El Abdullahi |
| National Financial Secretary | Hon. Mrs Francisca Effiom |
| National Legal Adviser | ThankGod Enahoro |
| Address | Plot 73, Ladoja Akintola, Suit 206 Dabo Plaza, Garki Abuja |
| Phone Number | 08033155775, 08023730880 |
Source – inecnigeria.org