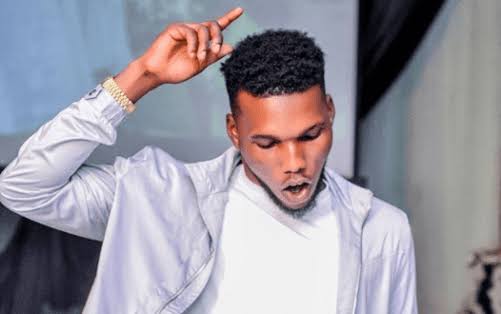 Victor AD as he is popularly referred to became a superstar in the Nigerian music industry after releasing his major single titled "Wetin We Gain" in 2018. Want to know more about Victor AD biography and other details? Continue reading to find out.
This song(Wetin You Gain) was widely accepted by most Nigerian youths and hustlers as they also saw the song as a motivational anthem to them. They believe that the lyrics of the song has really inspired them to keep hustling.
With his real names as Victor Adere, this musician hails from Warri in Delta state, Nigeria and was born and brought up in Lagos, Nigeria. He's also a very talented and hardworking musician who is currently making waves in the Nigerian music scene.
Education
Victor AD studied at Auchi Federal Polytechnic which is located Edo State, Nigeria.
Music Career
Victor Ad started singing at the age of 6. His love for music was also influenced by his early exposure songs by major legends such as Sunny Ade, Bob Marley, Lucky Dube and Micheal Jackson. The singer who started as a rapper won the award for the best singer for 2013/2014 session at the Federal Polytechnic, Auchi, Edo state.
However, in the year 2014, he released his debut single titled "Jowo" which was mixed and produced by CoolBoyBeatz who is a close friend of his.
He became even more popular after he released a new song titled "Motivation" in which he also featured another Nigerian music superstar – Erigga. Motivation was also a major hit in most parts of Nigeria as it was also a very good inspirational song and won the hearts of many Nigerian music lovers.
In 2018, Victor AD released a new single titled "Wetin We Gain" and this was a very successful song. It was also popularly referred to as "The Anthem Of The Streets" by most Nigerians. This was also one of the most searched songs on google for 2018 as the song got the heart of many Nigerians.
The video of the song – "Wetin We Gain" by Victor AD has generated over 5 Million views on the ever-popular video sharing platform – YouTube and counting. The "Wetin You Gain" single was given visually directed by Director Dindu.
Also in 2018, this talented music artiste signed a multi-million-dollar deal with a Ghanaian record label and management – ETINS Records under the management of Longitude Promotions and this served as a major breakthrough in his career. This deal, however, was designed to help elevate and manage the career of this musician.
Controversies
All celebrities in Nigeria are often faced with one problem which is controversy. Victor AD as a Nigerian celebrity has also been involved in some controversies since he came into starlight.
Sometimes is 2018(October 5, 2018, precisely), this singer was involved in a robbery attack which nearly claimed his life. According to him, he and his team were on their way to a show in Benin City and travelled by road.
While travelling(at Sagamu), they were attacked by armed robbers who confronted their vehicle which guns and various ammunition. They(he and his team) quickly fled into the bush and as God may have it, they were safe.
He as also been accused of promoting ritual killings and fraud in his song titled "Wetin You Gain". Some Nigerians believe that a verse in the song(If we no buy Benz Wetin We Gan) has made gullible youths in Nigeria to search for other means of making money quickly – through ritual killings and fraud.
Victor AD has since denied this accusation. He believes that people who want to engage in internet fraud and ritual killings will do it regardless of which song they listen to.
Age
Victor AD was born on July 31st(the year of his birth still remains unknown).
Songs
Aside from having major hits like "Wetin We Gain" and "Motivation" which he featured Erigga, Victor AD also has some other songs to his name and these songs include:
Thanks
Bigger You
Body Go Tell You
Loving You
No Idea
Networth
Victor AD's is currently unknown. But rumours have it that he may worth more than $100,000 because he recently signed a contract worth millions of naira with ETINS Records under the management of Longitude Promotions which is currently based in Ghana. So with time, the financial status of this artist would be made available for the public to see by his management.
Social Media Handles
Like other major celebrities and musicians in Nigeria, Victor AD is very popular on various social media platforms and his handles are as follows: (His profile is yet to be verified as at the last time we checked, so beware of scammers and follow only links in this post)
We hope you've enjoyed this post about Victor AD biography, age, career, net-worth, social media accounts and other details. Please share this post on social media with your friends using the share buttons below.
You'll Love These Posts