Mr Ray Hushpuppi who is also known as Aja 4 or Aja Puppi is a Lagos, Nigeria born socialite who is known for his luxurious and flamboyant lifestyle on social media (Instagram). He is one of the most envied and talked about on various social media platforms.
Ray rose to fame because of his high taste for quality and frequent flaunting of expensive outfits, jewellery, cars and gadgets. Hush is a big buyer of the Gucci brand wears, Fendi, Versace and lots of these big brands.
He was rumoured to have always received lots of gifts items from these fashion companies. You may have been asking, who is Hushpuppi? What does he do and how old is this famous Nigerian Instagram big name? You will find these questions answered in this article, as I will be revealing some things about Ray Hushpuppi in biography.
Hushpuppi – Basic Facts
Real Names – Raymond Igbalodely
Networth – Unknown
Source of Income – Real Estate
Age – Early 30s
Place of Birth – Lagos State, Nigeria
Lives In – Dubai, Malaysia
Who Is Ray Hushpuppi?
Ray Hushpuppi who is also known as Aja Puppi, or Aja 4, has his real name as Raymond Igbalodely. He moved from Lagos to Malaysia, where he was supposed to have started off.
He started making money and fame from this country. Raymond, according to his Instagram handle, is based in the United Arab Emirates(UAE). With about 2 million followers on Instagram, Ray follows barely less than than a thousand users.
Among his followers is the daughter of a famous Nigerian oil mogul, Femi Otedola's known as Cuppymusic, Patoranking, the Okoyes(Peter and Paul) of the then PSquare and lots of other foreign celebrities while he follows Ghanaian Shatta Bandle and few of other foreign and local celebrities.
Mr Hush is also on Snapchat @Hushpuppi5. He is currently not on Facebook, but on Twitter and not on tinder. I guess you know why?. Ray, at a time, had some word bashes with some top Nigerian celebrities.
Although he is a cool guy who just loves his own company and a luxurious lifestyle, his extravagant living has attracted fame, hatred, friends and foe but the guy no send anybody.
How Old Is Ray Hushpuppi? (Hushpuppi Age)
This socialite was born in Lagos Nigeria. Ray has not disclosed his actual date of birth although, he looks like one who is in his early 30s. There are speculations that he was born on the 14th of June 1988.
Ray who recently on October 11, 2019, took to his Instagram handle to celebrate and wish himself a happy birthday, stated that he is in his 30s. Here is what Hush shared on his IG handle on this date;
" As I turn a year older into my 30s today, I want to Celebrate all of you out there who have through the years been supportive in any form to me, those of you who mostly I have never met, spoken to or anything but have been a strong supporter of me through every situation until this point and still riding for me, I want you to know wherever you are that I celebrate and appreciate you today, today is Our Day!
God bless you all as you continue to show me love the good and bad times, I look forward to meeting and helping as much as I can. God bless you all Team Hushpuppi, Team E pain them!! Together we shall win".
Now from this post made by Ray on his IG handle, how old do you think Ray is?
What Does Hushpuppi Do For A Living?
This question has been on the lips of concerned fans for some time now. What business is Mr Ray into?
In a clip made by Hush and his friends, Hush was asked. What do you do for a living Hushpuppi? He replied by saying "I enjoy life for a living".
However, there have been rumours that he is into casino bet, whereas, some say he in into fx and bitcoin trading. There are some who say, he is into sales of Gold and other goods while others believe he is a yahoo boy.
Although Ray clearly wrote on his Instagram handle that he is a real estate developer, some still see his source of money as a mystery and I think he likes it that way.
Hushpuppi Networth
The networth of this Social media star is not known right now but we believe that he should be worth millions of Dollars with the way he spends money of extremely expensive stuffs in Dubai and Malaysia.
In many Instagram and Snapchat videos shared by hushuppi himself, you can see him flaunting raw cash which amounts to several thousands of dollars or even running into millions when calculated.
Even as much as many Nigerians see him as a lavish spender who doesn't know important things he could use his money for, others see him as a source or inspiration in their everyday hustle.
What Car(s) Does Hushpuppi Drive?
Ray Hushpuppi spend money on the things that he loves and things that give him joy. He revealed that his lavish lifestyle gives him satisfaction and that's why he shows them off on social media.
He has flaunted lots of expensive cars of various make on IG. He has also been caught on camera displaying various toys like the Ferrari, Bentley bentayga, the latest model of Rolls-Royce, range rover, Mercedes Benz G wagon (G63, G700), Maybach S650.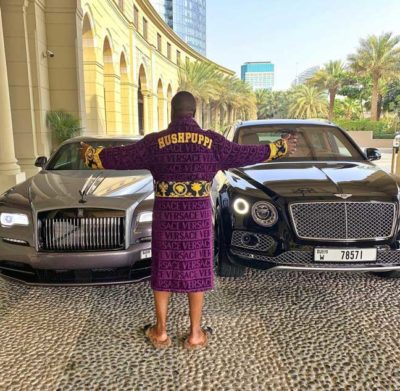 Ray has also been caught on camera flying in private jet and helicopter.
Ray Hushpuppi's House
Hush is not used to posting or sharing photos of houses or buildings that he calls his own like the way he does with cars, shoes, wristwatches, dresses and lots of other expensive kinds of stuff.
Although, he made mention of renting since expensive apartments in the UAE, Thailand and Malaysia. He has one revealed that he spent about 25 million Naira to rent a place. Huge right?
Some time ago, a popular OAP called Daddy Freeze posted a video of an interview session he had with Hushpuppi. In the video posted on youtube, Hushpuppi gave Daddy Freeze a tour around his Dubai mansion. You can watch the video below.
Hushpuppi State of Origin
Aside from stating his place of birth to be Lagos, Hushpuppi had been reluctant to disclose things about his family. He had once said that he started off not being a rich guy, and spent his early years in Lagos.
Which state is Ray from? This is still a question we have been looking forward to hearing from him till date.
Controversies
Rumour had it that the Economic and Financial Crime Commission, EFCC came for Ray sometime in 2018, due to his expensive lifestyle. The claim was that Mr Hush is one of the yahoo boys who are involved in defrauding clients on the internet.
The raid by the EFCC was based on intelligence, although some young men were apprehended Hush came out clean. Mr Ray whose source of wealth has remained a mystery to Nigerians, have foes who wish him to be arrested just like his friend Ismaila Mustapha, Aka Mompha.
This is because a very large percentage of Nigerians believe he made his money through illegal dealings. Hushpuppi has cleared the air that he made his money through a legit and legal way by hard work and determination. Mr Hush is still balling hard right now.
Is Hushpuppi Married?
Well, I don't think he is. He has never made any statement on his marital status so I believe that he's not married yet.
Summary
This is not the complete biography of Ray Husuppi as he loves to keep important things about his life in secret. This is the much I will give about Ray Hushpuppi's biography and this article will be updated in due time when we get some more information about this social media personality.
Kindly tell us what you think you know about him with the comment box below.