If you've been reading the latest articles surfacing online these days, you should know, or maybe, you might have heard about an actress called Regina Daniels and her alleged husband which have been making the headlines.
In this post, we'll be answering various questions like who is Regina Daniels's husband? Is Regina Daniels married? How old is Regina Daniels's husband? and many more questions which have been surfacing online in recent times.
Also in this post, we'll also be taking a look at the net worth of her billionaire husband, his biography, wives, investments, education and so much more.
Regina Daniels is a talented actress who has been a major player in the Nigerian movie industry – NollyWood – since her childhood. Even at such a young age, she has proven that you can succeed regardless of your age in the Nigerian entertainment industry.
She is widely loved and followed by all fans of Nollywood who are on social media and she also has a whopping 12.7 Million+ followers on Instagram.
Although her marriage to the Nigerian billionaire has been termed controversial by many Nigerians, we think you should also know more about this Nigerian billionaire and husband to Regina Daniels.
Regina Daniels Husband (NED NWOKO): All You Should Know About Him
Below are some of the things you need to know about Regina Daniels's husband – Ned Nwoko. This includes his investments, biography, age, net worth, career, wives, and more.
Ned Nwoko Biography
Ned Nwoko was born on the 21st of December 1960 in Aniocha North LGA, Delta State into a royal family who resided at the Idumuje-Ungboko Royal Palace also in Delta State, Nigeria.
Being a child who was born into a royal family, his parents ensured that he went to the best schools in Nigeria and abroad. After completing his elementary and secondary education in Nigeria, he proceeded to study abroad for his university education.
Nwoko got his first degree in Law and History from the University of Keele in Staffordshire, the United Kingdom, after which he proceeded to study at King's College London where he graduated with a Master's in Law.
He also has two honorary degrees. One was at the Commonwealth University College where he got an honorary doctorate in Belize. He also has an honorary doctorate from the University of Petroleum Resources Effurun, Delta state Nigeria.
Ned Nwoko Networth
Ned is a Nigerian billionaire who has many investments in Nigeria and outside the shores of this country. Although he is believed to be a billionaire, his current networth is still relatively unknown to the general public.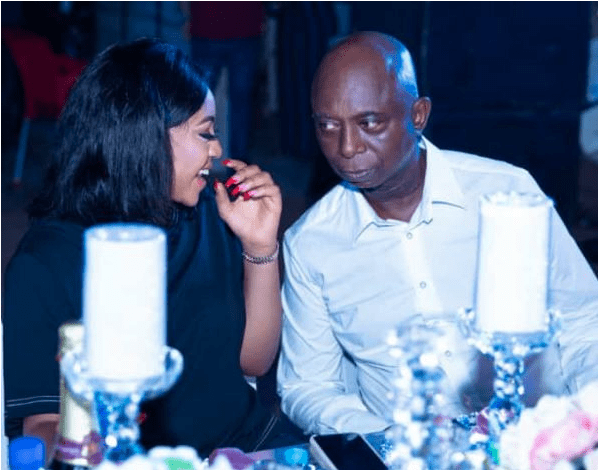 Ned Nwoko Wives/Relationship
According to various online sources, Ned Nwoko is married to 6 WOMEN and Regina Daniels is believed to be the sixth wife. In April 2019, news of the relationship between Ned and Regina broke out but we've not gotten any official statement from the couple concerning their union.
Ned and Regina tied the knot also in 2019 and they both have 2 kids together.
Age
Ned Nwoko is currently 62 years and he was born on the 21st of December, 1960. He is 40 years older than his 6th wife – Regina Daniels who is currently 22 years old (born October 10, 2000).
Career
In 1999, the electorates from Aniocha/Oshimili Federal Constituency elected him as a member of the house of representatives. He held his legislative position until 2003.
After finishing at the house of representatives in 2003, he decided to contest for the governorship seat in Delta State but lost to his opponent, Chibudum Nwuche.
Politics aside, Ned is a successful lawyer who previously served on the Vision 2010 committee and he is also a senior consultant and founding member of the Ned Nwoko Solicitors – A Law firm based in London, USA.