Lots of young Nigerians rose to fame by flaunting their goodie bags and expensive lifestyle on social media. Just like Ray Hushpuppi, E-money, Mompha is one of those who show off their flamboyance, executive cars and highly expensive wares on Instagram.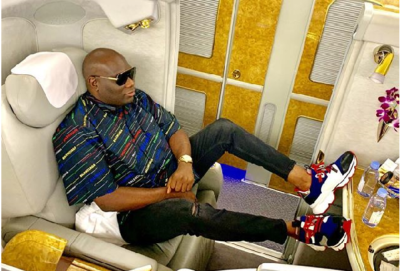 It was gathered that Mompha and Hushpuppi were best of friends from their early beginning until something happened recently and they broke up. What could have happened that could lead to their separation? Mompha is known for his display of stack of cash of various currencies and cars on social media.
This has made him famous and popular over the years. You may ask. Who is Mompha and what does he do to make all these money he flaunts on the media? Better in this article, I will describe Mompha and disclose some details of his biography.
Ismaila Mompha: Quick Facts
Real Names: Ismail Mustapha
Date of Birth: June 6, 1979
Nationality: Nigeria
Occupation: Businessman, Bureau d Change
Residence: Dubai, Lagos
Who Really Is Mompha?
Ismaila Mustapha who is fondly known as Mompha is a Nigerian social media big boy who is known for his extravagant spending and lifestyle. Ismaila Mustapha shuttles between Nigeria and the UAE. He is often seen in the Emirates whenever he is not in Nigeria.
Dubai is like his second abode after Nigeria. Mr Mompha was said to have had his secondary education at Government College, Ikorodu, Lagos. Though, not much is known about his later educational qualifications. Hs is said to be the owner and chief executive officer, CEO of Mompha Bureau De Change(sales and exchange of various foreign and local currencies at a rate usually higher than the bank charge) at Bankole Street, Balogun in Lagos Island, South West of Nigeria.
Due to his influence, lifestyle and business, Mompha has made friends with top celebrities and politicians, with the likes of Davido, aunty Tiwa and Nasiru El Rufai, former DG of the Bureau of public enterprises, former minister of FCT, Abuja and currently the governor of Kaduna state.
He and Hushpuppi used to be great buddies. Mompha was recently apprehended by the Economic and Financial Crimes Commission, the EFCC as he flew from Dubai to Nigeria trying to evade the arrest of the Interpol for involvement in financial crime-related activities.
How Old Is Mompha? (Mompha Age)
He is a philanthropist who is known for his flamboyance and business type. Ismaila is four decades old, the young man was born in Nigeria on the 16th of June, 1979.
He turned 40 years on June 16th 2019. If you are a fan of Mompha, do well to wish him well and celebrate with him on this date of his birth.
What Business Does Mompha Do?
Lots of fans and followers of Mr Mustapha, still really do not know or believe exactly what he does for a living to be able to make such huge amounts of money.
Some believe he is into a legit and legal business of money exchange while others say he is a fraudster, and an internet scammer that launders foreign currencies and lots of other speculations.
He has been known to own the money exchange business for a long time now, he is believed to be the owner and CEO of his business, (Mompha bureau de change) in Lagos, not until recently that he is in the net of the EFCC.
Could there be a trace of some kind of illegality in his business dealings or something we really don't know? Let's wait and see how the case will turn. Out to be. Hard work still pays good dividends though. We also hope to see that he is clean of the allegations.
Networth
According to some online sources, Mompha currently has an estimated worth of around $100 – $200 Million.
What Car(s) Does Mompha Drive?
Mr Ismaila Mustapha is a big boy who spends money on items, gadgets, jewellery, fashion and cars, just like Hushpuppi. Mompha owns varieties of cars including Ferrari, Bentley, Rolls-Royce, range rover, Mercedes Benz G wagon, Maybach and lots of other expensive stuff worth millions of naira.
Mompha has been captured a lot of times in private jet alone and at times with his family. Although, I cannot really tell if he actually owns one or not. By any means, if you are certain about him owning a private jet, do well to tell us at the comment section.
How is Mompha's House like?
Following the discovery of the investigation made by the EFCC after the arrest of Mr Mompha, it was gathered that a Lebanese associate of his pays 5 million dollars as rent annually in a tower at Victoria Island, Lagos. It was said that the apartment consists of 24 residential floors, four apartments on each floor, two apartments on the royal penthouse floors, including a technical floor, a ground floor, a basement floor, private health club, lounge and meeting room. Do you think this tower is owned by Mr Mompha?
Record has it that he bought a house for his son who is barely 6 years of age and also cars and expensive Rolex wristwatch.
Mompha's Family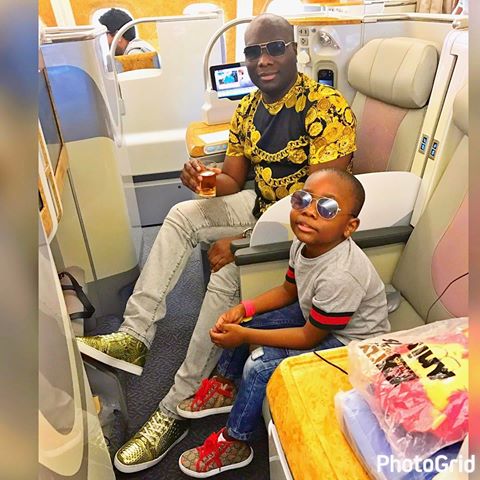 Mr Mompha who is still in the EFCC's net as at the time of writing this article is a happily married man with two kids, a boy and a girl. His son, Muhammed Awal Mustapha, also known as Mompha Jnr, or Gucci boy is 6 and already a landlord, living with multiples of expensive items and cars.
Mompha Arrest and Controversy
The Dubai based businessman, Mompha, whose net worth can not actually be pinned down is said to be worth around half a billion dollars.
Mr Ismaila, who fled the emirates to Nigeria as he was trying to evade the Interpol was arrested in Nigeria by the EFCC in the month of September 2019, following the claim that he was involved in a high level of internet scam. According to a US-based Tech expert, Mompha is ranked among the top 10 business email compromise scammers.
Some say he is involved in money laundering while others report him as a 'Yahoo boy', who scam and defraud clients on the internet. He is currently held by the Economic and Financial Crimes Commission, EFCC, while further investigation is still ongoing as they await the court's hearing and verdict.
Do you think Mr Ismailia Mustapha aka Mompha is guilty of these claims or not? If he is charged guilty, what becomes of his family and empire? Tell us what you think.