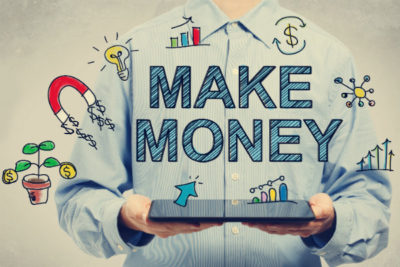 Wanna see some cool ways to make money as a student in Nigeria without hurting your grades and overall performance? Then sit back, relax, and read as this post is the best guide you can find on the Internet on this topic.
Let's face it. Some students in Nigeria mostly depend on their parents for almost everything they need in school from schools fees to feeding, upkeep, and more.
That said, there are also some hardworking undergraduates who make a good amount of money which they use to support themselves in school some jobs and side hustles which they indulge in and this post will serve as an eye-opener for you to see some of these businesses/jobs you can do as a Nigerian student.
Combining your studies with work is quite hard but this doesn't mean you shouldn't try to get your hands dirty on some of these jobs as they can fetch you a pretty decent amount of money by the end of each month and sometimes, daily!
As a student, you can either choose to work online or offline(physical work). Jobs/businesses in any of these two categories can fetch you a decent income from which you can use to do other things depending on your level of seriousness.
Below are some of the best ways you can make money as a student in Nigeria. These jobs can be done in any Nigerian university you may find yourself in.
This post will also provide answers to people who may be searching for how to make money online as a student in Nigeria, online jobs for undergraduate students in Nigeria and more.
Top 20 Best Ways To Make Money As A Student In Nigeria
1. Photocopy & Printing Business
Photocopying/printing is the most popular business you see most people (students and non-students) do on campus today because of its hot demand in various Nigerian universities.
It is also very easy to start and gives you the opportunity to choose your own work hours. Photocopy and printing business can be started with very low capital, some gadgets (printer and laptop), and a small/mini power generating set.
If you intend to go into the business while in school, you don't need to get a shop for a start. You can just squat anywhere with huge traffic on campus and do your stuff without any issues.
You can also employ someone to do it for you (if you own a laptop and a printer) and you both can share the proceeds according to the agreement made when starting the partnership.
2. Data Reselling Or Recharge Card Business
Data reselling is the business of buying data from telecom companies (usually in bulk) and then selling them to your customers (mostly students) bit by bit at a rate that is cheaper than the normal data plans provided by these telecom companies.
On the other hand, the recharge card business as you know involves selling recharge vouchers to people who need to recharge their phones with a certain amount of money.
Recently I wrote a post about how to start recharge card business in Nigeria and I'll be writing another post on how you can also start a data reselling business in Nigeria. Do well to check these posts after reading this article.
3. Freelancing
Freelancing is one of the best ways you can make money online as a student in Nigeria. It involves helping people (usually referred to as clients) to do a certain task (or tasks) for an agreed time frame and then you get paid by them for the job.
Unlike other physical jobs which I've mentioned above, freelancing has no minimum age requirement which means that it's a way to make money as a secondary school student or university aspirant too.
Before looking into freelancing, you need to learn a very good skill which is also in demand. Some good skills which you can make money from by providing freelance services to buyers include coding, WordPress development, logo design, graphics design, article writing, translation, virtual assistant, and lots more.
As a freelancer, all you need is a good laptop and a personal internet connection and you're free to work anywhere you choose as long as there is electricity to power up your gadgets.
Most Nigerian freelancers love international freelancing websites like Fiverr, Upwork & Freelancer because they pay in dollars and make more money by changing these funds in the black market.
You can also check out some freelancing websites we have here in Nigeria on Google as these websites will pay you in Naira and you don't have to go through the stress of changing from other international currencies.
4. Blogging
Blogging is one of the best online jobs for undergraduate students in Nigeria.
If you can write great content and manage a weblog successfully then you should be making some amount of money as your blog progresses.
To become a successful blogger in Nigeria you need to focus on a particular topic (often referred to as a Niche) and dish out great quality content for your readers.
Some popular niches which can fetch you income in Nigeria include health, technology news & tips, fashion, sports, cooking, general information e.t.c.
You can make money on your blog by applying for various monetization programs like Google Adsense, Propeller Ads, Media.net or you can choose to make money with affiliate marketing or selling physical products on your blog.
Note: Due to the "oversaturation" and stress of running an entertainment blog as a student, we have not included it here.
5. Programming
If you're a tech lover or a computer science student(and other related courses), you might and should consider this as an option.
Programming is the art of building and designing a computer program with the sole purpose of solving a particular problem.
In programming, there are various sections in which you can choose to specialize in. These sections include web design and development, Android/iOS development, embedded systems programming, game development e.t.c.
As a computer programmer at the university, you can choose to make money in so many ways as this skill is a very rare skill amongst Nigerian students.
Some ways in which you can make money as a programmer at the university include:
Freelancing
Create a mobile app or website and earn through ads
Doing assignments and final year projects for computer science students
Tutorials (online and offline)
Physical jobs for clients e.t.c.
On a final note, programming is one of the best ways to make money as a Nigerian student if you're a tech enthusiast and interested in learning more about computers.
6. Organizing Paid Tutorials For Students
Not all students at the university are strong academically and this makes the tutoring business one of the best ways to make money as a Nigerian student on campus (for the intelligent ones).
To start this business, you'll need a good place (a teaching hall) and students (usually first-year students) who might not be very strong academically.
You can also offer freebies like textbooks and other materials to entice more students to attend the tutorials. As a "tutorial master", you can choose to bill your students on a daily or monthly basis for your tutoring services.
7. Viewing Center(Showroom) Business
Many Nigerian students (especially male students) love football and other sports and are always ready to pay a token to watch live matches on weekends and weekdays.
Due to this fact, the viewing center business is one of the best ways you can make money as a student in Nigeria.
Even though this business is a profitable one, it is not easy to start as it requires some capital to purchase gadgets (decoders, tv, and a generator) and also get a secure place to start.
The viewing center (showroom) business works best when combined with owning sports betting business too since many football fans are also gamblers too.
Note that running a full-time viewing center + bet9ja business will definitely distract you from studies unless you get a reliable individual or individuals who can help manage the place effectively while you are away.
8. Hairdressing/Barbing
This type of business is a very popular one for those students who have the skills. Barbing/hairdressing business is also a very lucrative one for both female and male students respectively.
Hairdressing is very popular among female students in the university. If you're skilled and know how to do various hairstyles for students in school you'll be making some amount of money as almost every female student at the university makes their hair at intervals.
This hairdressing business can be combined with other trades like makeup, knitting, bead/bangle production, Okirika (used clothes and underwear) business e.t.c.
Barbing on the other hand mostly requires a place(shop) to stay as it is not as portable as the hairdressing business for females. It is also lucrative and doesn't require much capital/money to start – you can even start in your room if you live off-campus.
9. Photography
Nigerian students love printed photographs of themselves as they explore the university by attending events and other shows, hence the need for professional photographers at these universities.
Although many people think photography is dead, I can tell you that it isn't dead at all. As a photographer, you can make money by taking passport photographs for students, taking pictures at popular events on campus, selling your pictures online and so many other ways.
To start a photography business at the university the major requirements are as follows
A camera or a top-notch smartphone with a good camera
Computer or laptop for editing your pictures
Photo editing skills
Photo printer
A small place to stay so you'll be noticed on campus.
10. Sell Past Question & Other Useful Booklets
This business is very popular too. To make money here all you need to do is to write and publish a booklet(usually tutorial booklets/handouts) and distribute them to various handout dealers in your school to sell for you.
You can also gather other past questions in various subjects and sell them to students through these dealers.
Past Questions/Handout business is for those students who have mastered a particular subject and also have the necessary experience needed to publish a handout so other students can learn from it when they buy.
11. Paid Online Surveys
This is one of the best ways to make money online without paying a dime. Paid online surveys are ways in which various online companies get comprehensive feedback from customers about their new products/features usually in exchange for money for the time spent.
Surveys are a very easy business(sort of) in which Nigerian students can do and make a little amount of money in a few minutes.
Most of these websites are international websites and pay in dollars but we also have some of them in Nigeria.
To get some of these paid online survey websites that are available in Nigeria, check this article on the NaijaHomeBased blog.
12. Sell Used Goods For Students
This involves helping students to sell their used goods in school or even outside the school environment. Some materials you can sell for students include gadgets like phones, television sets, laptops, and other items.
Most times you might not need to help the person sell it directly, all you need to do is to link the seller and the buyer(sort of agent stuff) and you'll get your own commission when the deal has been done.
You can also help students to sell their stuff on websites like JiJi.ng and OLX and get your commission after selling and delivering the product to the buyer.
13. Soaps & Disinfectants Production
This is a business for those students who possess the skills of soap and/or disinfectant production.
If you can make liquid, powdered/bar soaps, air fresheners, perfumes, or body lotions, then this is one of the ways you can make money as a student in Nigerian universities.
The good thing about this kind of business is that you can also start the training anywhere in school as so many students are also willing to pay so they can learn the skill.
14. Social Media Marketing
Got a very active Facebook account, page, or group with many active followers or friends? Or maybe you own a very active Instagram or Twitter account with thousands or millions of followers? Then this is one of the ways you can make money as a student in Nigeria.
Social media marketing/promotion involves you promoting a product(s) for a friend or company and earning a commission for each sale or referral that you make.
15. Trading Cryptocurrencies/Forex/Stocks
Trading is a very risky but profitable business that many Nigerian students use to make money. Before venturing into this business, make sure you know and understand all/most aspects of trading either crypto, stocks, or forex (depending on your choice) to avoid being scammed by fellow students or online fraudsters. who claim to be gurus in the business.
Bitcoin and cryptocurrencies are digital currencies and traders make money by buying these crypto-assets at a low price and selling them for profit depending on the market rates. Due to the high exchange rates, trading cryptos is a very good way to make money online as a student in Nigeria.
We recommend you read tons of articles and resources about this business before starting because you can loose a lot of money if you don't know how trading works.
16. Event Planning
If you understand the secrets and have a good experience in planning events, then this is a great way to can make money in your higher institution by doing what you love.
This business involves organizing events or shows for others and getting paid for doing that. Since event planners are rare in the university, it is a very lucrative skill to learn in your free time.
Event planners make a lot of money as people who employ their services are usually the "big boys and girls" on campus.
17. Create Videos On Youtube
If you can create funny videos or tutorial guides on what you know best, then this is a good way you can make money as a student in Nigeria.
This kind of business is easy but requires time and patience to make money.
To start the business of making YouTube videos for money as a student, all you need to do is to create a channel and make exciting videos(because of the competition) and get people to view your videos.
After reaching a certain number of subscribers on your YouTube channel, then you can begin to show ads on your videos and make money. Remember, more exciting videos = more money.
YouTubers make money primarily from ads displayed on their channels and affiliate commissions from products they reviewed and recommended for people to buy. Again, Youtube is not a get-quick rich scheme as it requires time to master the craft of creating high-quality videos that people will love to watch.
Some examples of big Nigerian YouTube channels include Fisayo Fosudo, Tayo Aina Films, MissTechy, and likes. The owners of these channels make an outstanding amount per month from making videos and if you believe you can make videos as they do, then I recommend you try.
18. Graphics Design
Are you very good at using graphic design software like CorelDraw, Photoshop, Canva, and the likes? Then this is one of the best ways you can make money as a student in Nigeria.
You can start this business with your laptop and a printer (optional) and expand as time goes on. As a graphic designer, some of the popular design jobs you can get on campus include banner/flyer printing, posters, cartoon pictures, Yearbooks, and other designs students love.
You can also register on Freelance platforms like Fiverr, Upwork, and PeoplePerHour and offer your graphic design skills to a potential client. Bear in mind that most of these platforms are full of highly talented graphic designers and you have to know your onions (in graphics designing) to survive there.
19. Manicure and Pedicure Services
This is a gender-based business for female students in Nigerian universities. Many females in Nigerian universities love to have their fingernails and toenails brushed and polished on a weekly or monthly basis, hence the high demand for students who possess this skill.
The business involves buying various materials for fixing and polishing fingernails and also helping other female students to do it. It can be combined with a makeup and/or hairdressing business to make more money.
Other Ways To Make Money As A Student In Nigeria
These are some of the ways you make money as a student in Nigeria we couldn't cover in detail. You can learn more about them by making research online or asking other students who have also started these businesses.
Become a Jumia agent
Baking services
Popcorn business
Room painting and artwork services
Used clothes(Okirika) business
Outdoor catering services
Agent services(help students find apartments)
Kerosene and/or Gas retail services
Laundry(Dry cleaning) services
Home tutor services
Music DJ services
MC/Stand-up comedian
Phone/Laptop repairs and services
Egg supply services
POS services
Student politics (S.U.G)
Affiliate Marketing
Catering Services
Open a Game Shop
Conclusion
This post has been about various ways in which you can make money as a student in Nigeria.
These businesses are aimed at Nigerian students who are currently studying at various higher institutions in the country and they can also help you overcome the problem of lack of finance.
Do you have some of these businesses in mind but don't have the required skills to start? Then, consider learning these skills during your leisure time, holiday periods, or those long months of the ASUU strike.
If this post has helped in answering your question on "how to make money as a student in Nigeria" consider sharing with other students who might also be interested in this article with the social share buttons below.
Got other businesses for Nigerian students that you feel should be on this post? Please drop them via the comment section below. Goodluck