Nigeria currently has about 31 airports spread accords the 36 states of the country but only a few of them are up to international standard and have the capacity to operate flights for people who wish to travel from Nigeria to other countries.
These Nigerian international airports are open for the arrival and departure of Nigerians and other foreign Nationals and they are also where the Nigerian Immigration Service and passport officers are based.
If you're currently planning to travel in or out of the country and you're looking for a list of international airports in Nigeria and their locations, then this article is for you as we will be sharing information on these things in a moment.
How Many International Airports Are In Nigeria?
The Federal Airports Authority of Nigeria currently manages around 31 airports and counting in Nigeria but not all of them have the capacity of handling international flights.
Right now, there are 11 international airports in Nigeria and about 5 of them are functional. Let's take a look at these airports and their respective locations below.
Full List Of International Airports In Nigeria
1) Murtala Mohammed International Airport, Lagos
Murtala Mohammed International Airport is an international airport which is located in the capital city of Ikeja, Lagos State, Nigeria. It is Nigeria's biggest and busiest airport as of the time of compiling this article.
This airport was originally known as Lagos International Airport but was later renamed after late former Nigerian Military leader, Murtala Mohammed in the 1970s. The airport consists of an international airport and a domestic airport which are 1 Km from each other but share the same runway.
The Murtala Mohammed airport, Lagos welcomes more than 7 million passengers each year and all major international airlines in Nigeria operate there. It is also believed that this airport is one of the biggest airports on the African continent.
2) Nnamdi Azikiwe International Airport, Abuja
The Nnamdi Azikiwe International Airport is an international airport which is located in Nigeria's Federal Capital Territory, Abuja. The airport covers approximately 20 KM of land which houses both the international and domestic airports.
This Airport which was named after Nigeria's former leader, Nnamdi Azikiwe processes over 4 million domestic and international air passengers annually and according to the FAAN, it has the capability of processing up to 11 Million passengers annually if the need arises.
Most top international airlines like Air France, Air Peace, Ethiopian Airlines, Lufthansa, Med-view Airlines, and many others operate from there to many destinations around the world. The airport is also one of the most preferred airports for tourists and other international passengers due to its proximity to major attractions and infrastructure in the nation's capital.
3) Port Harcourt International Airport
The Port Harcourt International Airport is another airport located in the famous capital city of Port Harcourt in Rivers State, Nigeria. The airport mostly serves the people of Rivers state and other neighboring states in the South Southern region.
This airport currently has two terminals (domestic and international) and the international terminal was commissioned by the executive president of the Federal Republic of Nigeria President Muhammadu Buhari on October 25, 2018.
As of 2019, the airport served more than 1.5 Million international and domestic passengers making it the third busiest airport in the whole of Nigeria just after Murtala Mohammed and Nnamdi Azikiwe airports.
4) Mallam Aminu Kano International Airport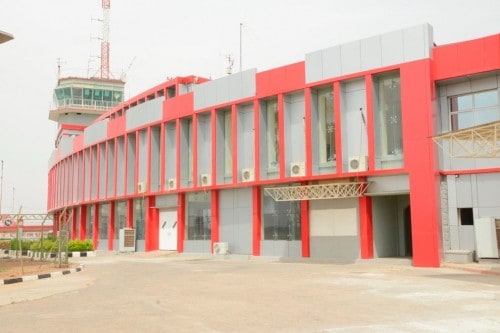 The Mallam Aminu Kano International Airport is an international airport located in Kano State, Nigeria. It was formerly known as the Royal Airforce station before Nigeria gained its independence in 1960.
This airport is the oldest in Nigeria and it will interest you to know that it is also where the first airplane landed in Nigeria in the year 1922. The airport, however, started passenger operations in 1936 and still operates to this day.
It is also one of the few airports in Nigeria that serves both passenger and military flights (for the Nigerian Airforce). The Aminu Kano International Airport handles both domestic and international flights and as of 2018, the airport recorded over 500,000 passengers.
5) Akanu Ibiam International Airport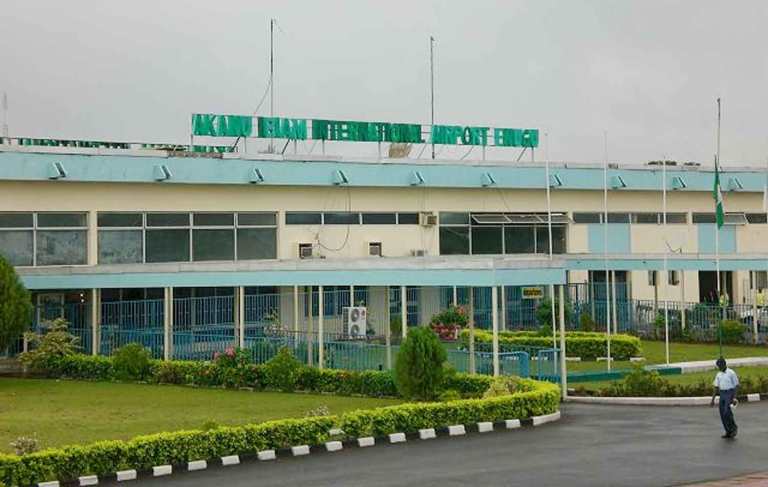 The Akanu Ibiam International Airport which is also known as the Enugu Airport is an international airport which is located in the capital city of Enugu, Enugu State, Nigeria.
This airport was established in 1976 serves most of the major cities in South-Eastern Nigeria. It was originally known as the Enugu Airport but was later renamed in honor of late Akanu Ibiam who lived from 1906–1995.
It also serves as departure points from some popular international airlines which include Aero Contractors, Air Peace, Arik Air, Med-View Airline, Ethiopian Airlines e.t.c. The airport is also one of the least busy international airports in Nigeria.
#Kaduna International Airport
The Kaduna International Airport is an airport located about 12km from Kaduna Metropolis in Kaduna State Nigeria. The airport was officially commissioned in 1982 under the management of the Nigerian Airports Authority (NAA) and received its first international flight in March 2017.
The airport was temporarily used as Nigeria's major international airport after the official closure of the Nnamdi Azikiwe International Airport in January 2017 for intracultural repairs and upgrade and it is still used for domestic and international flights to this day.
#Asaba International Airport
The Asaba International Airport is also an international airport located in the capital city of Asaba, Delta state Nigeria. The airport mostly serves states and popular cities in Nigeria's Niger-delta region and it was opened in 2013 for commercial use.
Although the airport has been temporarily closed and no longer accepts passengers due to infrastructural problems, it is still an international airport and maybe reopened anytime soon.
#Sam Mbakwe International Cargo Airport
The Sam Mbakwe Airport is an international cargo airport located in Imo State, Nigeria. It commenced operation in 1994 under the regime of the former Military Administrator, Navy Captain J.N. Aneke, and is currently managed by the FAAN.
#Others
Kebbi International Airport, Kebbi
Sadiq Abubakar III International Airport, Sokoto
Maiduguri International Airport, Borno
Dutse International Airport, Jigawa
Margaret Ekpo International Airport, Calabar