Many Nigerian webmasters believe that local hosting companies in Nigeria don't offer the best services when compared to their counterparts abroad and while there may be some truth to this, a handful of Nigerian hosting companies really stand out from the crowd because they offer top-notch hosting services to their clients.
Over the years, these Nigerian hosting companies have improved greatly in most aspects of their services and while they might not be among the best hosting providers in the world, they're some of the best you can get for the price in Nigeria.
One of the major advantages of Nigerian hosting companies is the fact that you get to pay for these services in Naira via bank deposit or with your debit/ATM card instead of being choked up by high exchange rates due to the issues the Nigerian economy is facing at the moment.
If you want to start a small business or a blog in Nigeria, then this post is for you as we will be sharing our recommended Nigerian hosting company and then a list of the 10 best web hosting companies in Nigeria.
These hosting companies will help you kick-start your small business and also help you manage your small budget.
Top 10 Best Web Hosting Companies In Nigeria
Below is a list of the very best hosting companies in Nigeria right now.
1. QServers
This company shouldn't be new to you if you are currently in search of a reliable Nigerian web hosting company. They currently offer one of the cheapest and most reliable web hosting services in Nigeria.
For as low as N9,000/Yr, you'll get 2,000Mb Web Space, 8,000Mb Bandwidth, Unlimited Email Accounts, Unlimited MySQL, and 5 Sub Domains. Qservers also offer additional plans for new users with other budget specifications.
Payment options accepted at QServers include MasterCard/Visa/Verve debit cards and direct nank transfers to their bank accounts with Nigerian banks.
Qservers is currently the best hosting company in the country. To learn more about Qservers and the plans they offer, visit Qservers.net.
2. DomainKing
With operations in more than 4 countries, DomainKing has also grown to be one of the best web hosting companies in Nigeria.
Services offered by DomainKing include domain name registration, web hosting, WordPress hosting, etc.
For as low as 750/month, you get 2 GB SSD space, unmetered bandwidth, hosting space for 2 Websites, 1 free .COM.NG Domain, Free SSL, cPanel Control Panel, and other freebies are attached to this hosting plan.
Payment options supported by DomainKing include various local payment options in Nigeria like Interswitch/Verve Cards, Visa/Mastercard, GT Bank Transfer, GT Bank Cash Deposit, Voguepay, Cash Envoy & Etranzact/PocketMini.
To learn more about various hosting plans and domain name prices offered by DomainKing, visit their official website at DomainKing.ng
3. WhoGoHost
WhoGoHost is also a leading Nigerian-based web hosting company. This company provides CPanel Linux Hosting, data migration, and host switching on a monthly and annual billing cycle depending on your budget.
On an entry-level, Whogohost gives you 2GB Webspace, 10GB bandwidth, a free .NG Domain, free SSL certificate, 4 subdomains, 1 Hosted Addon Domain, 1 Parked Domain, Unlimited Emails, and Unlimited SQL Databases for N100 monthly and N12,000 for a year.
Payment options supported by Whogohost include Interswitch/Verve Cards, Visa/Mastercard, Bank Transfer, and Bank Cash Deposits.
Other web hosting and domain plans offered by Whogohost can be found on Whogohost.ng.
4. HostNowNow
This is also a web hosting, domain registration, and server management company which is one of the best hosting companies in Nigeria.
They offer various hosting packages like shared hosting, limitless hosting, reseller hosting, cloud hosting, and many others.
For as low as N10,000 yearly you can get your website up and running with HostNowNow. There are also other plans suited for your business as it grows and these plans can be found at HostNowNow.com.
Payment options accepted by Hostnownow include Interswitch/Verve Cards, Visa/Mastercard, Bank Transfer, and Bank Cash Deposits.
5. SmartWeb Solutions
Although not very popular, Smartweb is one of the best web hosting companies in Nigeria.
It is also one of the largest Web hosting companies in Nigeria with clients ranging from government organizations to private organizations and individuals.
Smartweb offers various web hosting options which include Linux web hosting and Windows web hosting. With the N7,500 yearly plan, Smartweb offers you 10GB of disk space and 30GB bandwidth.
Other hosting plans offered by Smartweb can be found on Smartweb.com.ng
6. Web4Africa
Established in 2002, Web4Africa has been in the web hosting game for 16 years and is currently known in over 120 countries worldwide, including Nigeria. This is a web hosting company you should definitely check out if you are looking for a good Nigerian hosting company.
With N900 per month, you get 2GB of disk space, unlimited bandwidth, and a free .com.ng or .org.ng domain. The highest plan on web4africa promises unlimited bandwidth and unlimited disk space.
You can purchase domain names and web hosting plans on Web4africa with Perfect Money, Bitcoin, Skrill, PayPal, Naira Mastercard, Visa, or Verve in Nigeria. Bank Transfers and Bank Cash Deposits are also accepted.
For more details on hosting plans offered by web4africa visit Web4africa.ng.
7. RegisterAm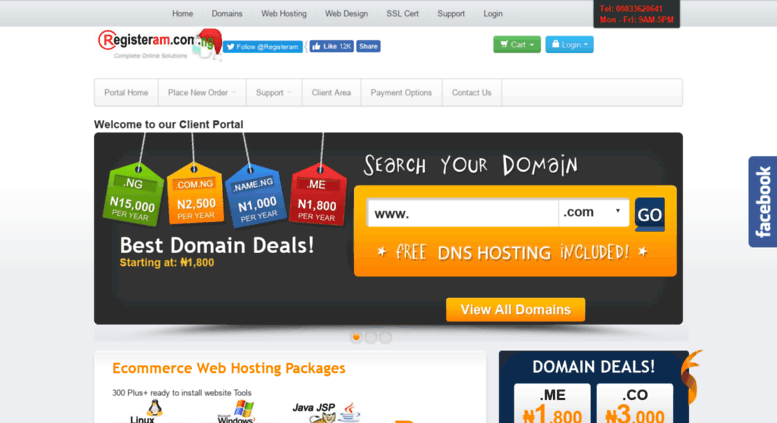 Registeram is also a very good but unpopular web hosting platform amongst Nigerian webmasters. They offer services that include domain name registration, web hosting, and other premium services.
With a starter pack that costs N400 monthly and N4000 yearly, you get 500MB Disk Space, 2GB Bandwidth, 5 Email Accounts, 2 MySQL Databases, and 10 Sub-Domains. This plan is perfect for starting a business and it also comes with a nice price and great options.
Payment options accepted by RegisterAm include Interswitch/Verve Cards, Visa/Mastercard, Bank Transfer, and Bank Cash Deposits.
To get more details about Registeram and its offers, visit Registeram.com
8. GlobalHosting247
GlobalHosting247 is one of the best web hosting companies in Nigeria which also offers affordable web hosting services in the country.
With a starter pack that costs N400 monthly, GlobalHosting247 gives you 1GB, 15GB Bandwidth, and many more. GlobalHosting247 accepts Interswitch/Verve Cards, Visa/Mastercard, Bank Transfer, and Bank Cash Deposits as payment options.
To get more information about GlobalHosting247 hosting, visit Globalhosting247.com
9. Utiware
Utiware is also one of Nigeria's best hosting companies and a top hosting company and domain registrar in the country.
They offer one of the best Windows and Linux Web Hosting services in Nigeria at affordable rates, 99.9% up-time which is important because a business site or blog website has to be up at all times.
The company also offers a 30-day money-back guarantee meaning you can always request a refund if you're not satisfied with their services. This is one of the best practices in the web hosting space and is followed by top hosts outside the shores of Nigeria.
For 4,000 Naira per year, you will get an enterprise mailing system, a free site builder, ample disk space, free .ng domain names, MySQL databases, technical support assistance, and more.
To get more information about Utiware, visit their home page at Utiware.net.
10. Hub8 Nigeria
HUB8 is one of the new web hosting companies in the Nigerian technology market. They also offer affordable plans for small businesses and blogs in Nigeria.
HUB8 has also been the only Nigerian hosting company to offer a free WordPress hosting plan with up to 500MB of storage space and 100GB bandwidth.
Just in case you are not interested in the free plan which is for only WordPress websites, Hub8 also offers you 7 GB SSD Storage, all important features needed for a small website, unlimited bandwidth, MySQL databases, subdomains, and Emails with a free domain for just N250 monthly and N2,500 annually.
Other offers from Hub8 can be found at ng.Hub8.com