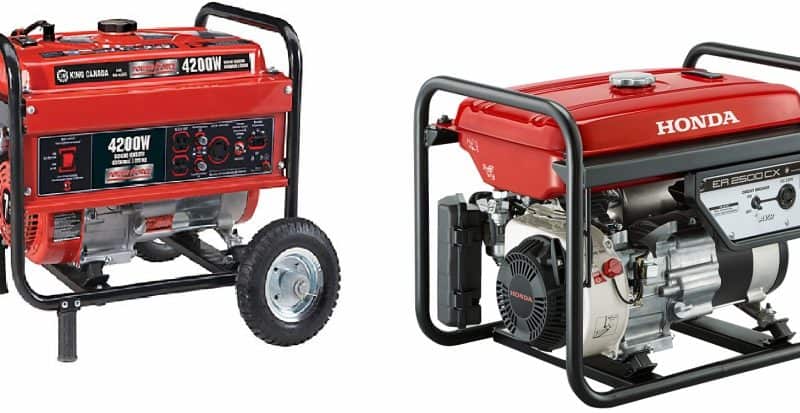 With the increasing problems in the Nigerian power sector, most Nigerians now rely on generators as alternative means of power supply and in some cases, primary means of power supply.
In Africa, Nigeria remains the biggest consumer of alternative electricity generating sets from millions of brands from across the world. These brands offer various features and like in other markets, some brands have proven to be better and more preferred by consumers in Nigeria.
If you're planning to get a generator set from any of the online or offline stores across the shores of this country, then it is important to get a very good product from well-known brands that have been proven to last because these products don't come cheap.
Even though many Nigerians prefer some brands to others, the truth remains that some generators from these brands don't live up to expectations in terms of durability, fuel consumption, maintenance costs, availability of parts amongst other factors.
After analyzing many products from most of these brands, we have decided to bring you a list of the best generator brands in Nigeria. Several products from them have been tested and trusted by many Nigerians hence earning these brands a spot on this list.
Without wasting more time, let's take a look at the list.
What Are The Best Generator Brands In Nigeria Right Now?
1) Elepaq
Elepaq is a top-rated generator brand whose products are used by millions of Nigerians daily. Their engines are produced with highly durable materials and replacement parts are also very easy to get across Nigeria.
When compared to other generator brands you can find in Nigeria, Elepaq generators are cost-effective and made for homes or small businesses. Their products are also very fuel-efficient and durable.
Most Elepaq generators come with key start, recoil start, built-in AVR, overload protection amongst other features. Their generators start from 800KW to as high as 10KVA.
2) Sumec Firman
Sumec Firman is another popular generator brand in Nigeria and one of the best at that. Their products are used by many Nigerians and can suit your needs whether it is a small business or a residential apartment.
Generators from this company are also some of the most affordable yet durable generating sets in Nigeria. Sumec Firman generators are also very durable, efficient, and stable with power capacities from 0.9KVA to 9KVA.
3) Honda
Aside from cars, Honda also manufactures a lot of quality generator products used by many Nigerians. Their products are not so affordable but in the long run, they offer you value for your money.
Honda generators are made from high-quality materials and are highly durable when compared to other brands. Their products start from a capacity of around 450VA to up to 5.5 KVA.
4) Mikano (Heavy Duty)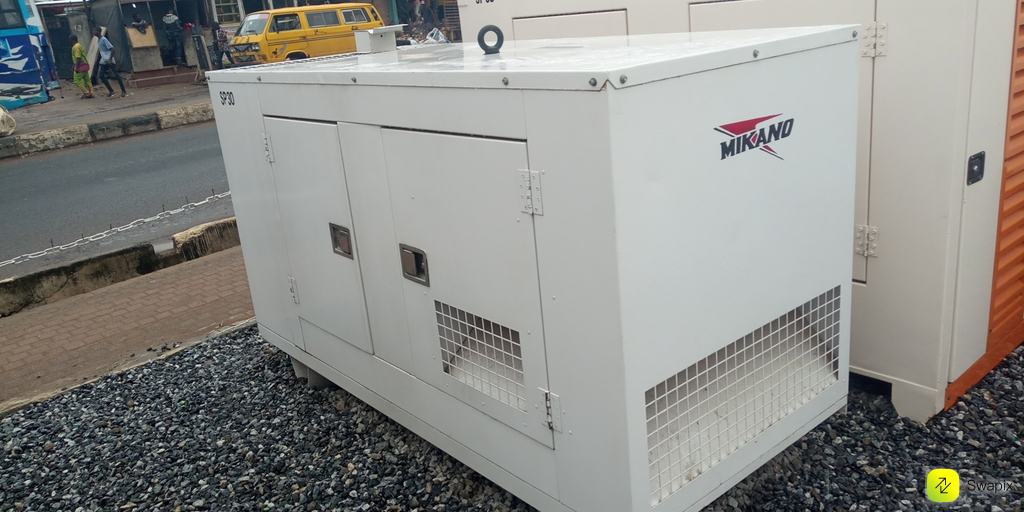 Mikano is another popular generator brand that is known for producing quality heavy-duty electricity generating sets for industries and other bigger organizations and firms.
Their generators mostly run on diesel and are very fuel-efficient at that. Mikano also offers after-sales support, maintenance services, rental services amongst others. Most of their generators are also soundproof so you don't have to worry about noise whenever it is in use.
Mikano generators are very expensive and not suitable for residential apartments because they're made specifically for heavy-duty jobs. Their generators range from 9KVA to up to 800KVA and prices range from 2.5 Million to 53 Million.
5) Tiger Generators
Tiger generators are apparently the most popular generator brand on this list and their products are used by millions of Nigerians. Their generating sets can suit any class or business and their lowest product popularly known as 'I beta pass my neighbor' is used by small businesses such as electricians, barbing salons, business centers, students, and residential apartments.
Their products are not only cheaper but more durable than most generator brands in Nigeria. Tiger generators are also very fuel-efficient and you can get one of their lowest products for around
6) Haier Thermocool
Haier Thermocool is a popular brand in Nigeria that produces high-quality household appliances which include refrigerators, washing machines, air conditioning units, generating sets amongst others. Their generators are quite expensive and this is expected as their products are very durable, fuel-efficient and of high quality.
Thermocool generators also come with the key start feature, customer support, and the tire in some cases for mobility. Some of their highly-priced generators come with the remote start feature amongst other exciting features.
Prices of Haier Thermocool generators range from 42,000 Naira to around 350,000 Naira.
6) Elemax
Elemax is also another popular generator brand in Nigeria which is used by many Nigerians. Their products, although slightly expensive, are highly durable, fuel-efficient, and very portable.
Their products are also used by many Nigerians and are suitable for small-medium scale businesses and residential apartments. Elemax generators' prices range from 70,000 Naira to 450,000 Naira for normal generating sets while their soundproof generators can cost up to 2 Million Naira or more.
8) Lutian (Heavy-Duty)
Lutian generators are not so popular as generators from other brands mentioned in this article. This brand is relatively new to the Nigerian generator market but is gaining a lot of popularity and trust lately due to the high-quality generators they put out in the market.
Their generators are often cheaper when compared to other brands like Haier Thermocool, Elemax, and some other brands listed here. Lutian products are of very-quality, durable, and fuel-efficient while still maintaining a lower cost.
Lutian generator prices range from 80,000 Naira to 350,000 Naira and they are readily available on various online and offline stores.
9) Perkins (Heavy-Duty)
Perkins is also one of the best generator brands in Nigeria that offer high-quality generators designed for heavy-duty jobs. Although this company focuses more on manufacturing parts or other generator brands, its products are undeniable of high quality.
Generators manufactured by this brand are mainly used in larger organizations, industries, and businesses where electricity is consumed in higher quantities. Perkins generator prices range from 1.9 Million to 22 Million Naira depending on the output and you can find them at any heavy-duty generator dealership nationwide.
10) Kipor (Heavy-Duty)
Kipor is another popular generator manufacturing brand in Nigeria that focuses mainly on manufacturing heavy-duty generating sets. Like Mikano, their generators are mostly used by larger organizations like churches, firms, universities, and other big institutions.
Their products are also mostly soundproof and run on diesel fuel. Kipor generators like others on this list are also fuel-efficient and their prices range from 500,000 to around 3 Million Naira.
Notable Mentions
Senwei
FG Wilson (Heavy Duty)
Yamaha
LG
What Are The Best Places To Buy Quality Generators In Nigeria?
There are many places you can get generators in Nigeria but you have to be very careful in order not to purchase fake products. Some of these stores provide warranties and after-sales support while others don't.
The best place to get quality generators in Nigeria is the offices of the brand themselves or approved dealerships of the particular brand in the country. Another option is to go with online e-commerce stores like Jumia, Konga, and others so the choice is yours.
If you wish to purchase used generators, you can go with online platforms like JijiNG, Nairaland technology market, Facebook, and others. Bear in mind that getting a used generator comes with its own disadvantages so you need to be very careful in order not to get a bad product.
How Do I Know if My Generator is Original in Nigeria?
There are undeniably many fake generators in the Nigerian market but how can you differentiate an original generator from a fake one? Well, that's what we will cover in this section.
Below are some of the methods of identifying an original generator in Nigeria.
1) Coil
All generators come with coils which could be either copper, ,aluminum or brass. Copper coils are ofter the most durable ones followed by the ones made from aluminum and the ones made from brass are the least durable ones.
Before you buy any generator, make sure you check the coil to see if it has been tampered with or not. Original generators mostly come with a copper coil (looks reddish-brown) so if you're seeing any other coil with a different color, then know that it isn't original.
One major tactic used by most marketers who want to sell fake generators to you is to spray the aluminum or brass coil with reddish-brown paints to make it look like copper coil so before you buy any generator, make sure you check the coil well or better still, take someone who knows about generators well along with you when going.
2) Engraved Company Name or Logo
An original generator will almost always have the company name engraved on most of its parts. Some parts where you can find these engravings can include the tank, engine block, air filter, carburetor, muffler, cylinder head cover, alternator rear frame, and AVR.
Any generator that doesn't have the name of the manufacturer engraved on at least 3 of its parts is most likely going to be a fake one. Also, make sure that the name is ENGRAVED (Carved) and not PAINTED.
3) The Sound
When buying any generator mostly from popular markets in Nigeria, make sure you ask the seller to test the generator in your presence for at least 10-20 Mins before paying even if it's in a carton (brand new).
A good generator should male a smooth and regular continuous sound or noise so if the sound is rough or the generator keeps switching off at intervals, don't purchase it.
4) The Engine
A fake engine will mostly appear shiny, light-weight, and well attractive so if the engine of the generator you're offered looks this way, don't go for it.
One good way to see if the engine is original is by just carrying the generator up when the fuel tank is empty. A lightweight generator is often an indication that it is a fake one.
Another method you can use to verify if the engine block of a particular generator is original is by just knocking or tapping the engine. If the sound it produces a little bit loud, then it is an indication that it may be a fake generator but if you hear little or no sound at all, it is most likely original.
Conclusion
Buying a generator from a very popular and trusted brand in Nigeria very important as they tend to produce high-quality products with spare parts that are readily available in case anything goes wrong.
Did we miss any good generator brands on this list? What generator brand are you currently using? Feel free to tell us in the comment section below.