The increasing cost of living in Nigeria makes it almost impossible to save money for some salary earners and businessmen who buy many new fintech platforms are coming up with various saving apps that could help in overcoming this problem of saving for many Nigerians.
As a salary earner or business owner in Nigeria with a steady monthly income, it is very easy to spend money recklessly without even remembering that you will have to save some of this cash for tough times.
These days, many apps and platforms promise to help you save money easily but the question remains, are these platforms and apps legitimate?
If you're planning on choosing a mobile app for saving money, we have decided to make this post to make it very stress-free for you by giving you a complete list of the best saving apps and online saving platforms in Nigeria in 2020.
These apps have been tested and also recommended by thousands of Nigerians who trust them with their savings and you shouldn't worry about been scammed as they're also registered and approved by the financial regulatory agencies in Nigeria such as the CBN while some are affiliated with Nigerian banks.
Without wasting more time, let's dive into the list.
Top 6 Best Saving Apps In Nigeria 2020
1) PiggyVest
PiggyVest (formerly piggybank.ng) is the first online savings platform in Nigeria and the whole of West Africa. The platform was launched to improve the life of Nigerians by making savings and online investments as easy clicking buttons on their smartphones.
For 3 years, Piggyvest (under the name, Piggybank NG) offered only savings options to its users but after the name rebrand in 2019, the platform now offers direct investment opportunities to users in addition to savings.
Piggyvest is also one of the most trusted saving apps in Nigeria with more than 1 Billion Naira saved on the platform every month by Nigerians. It offers a 10-15% interest rate on savings and over 25% returns on investments for registered customers and a whole lot of other features.
With over 350,000 users and counting who trust this platform for their daily and monthly savings, you have absolutely nothing to worry about as your money and completely safe in their hands.
The PiggyVest app is available on Apple Store and Google Playstore and you choose to use the web version of this platform, visit piggyvest.com to create an account.
2) CowryWise
CowryWise is the second app on this list of the best saving apps in Nigeria right now. The platform which was launched in 2017 is an online investment and savings platform that aims at making saving and investing worthwhile again for everyone by making it simple to do and highly rewarding.
With as high as a 15% interest rate and many other unique saving features, the company is surely one of the best fintech companies to reckon with in the Nigerian savings and investment sector.
Saving plans offered on this platform includes Regular Savings which allows you to save money for a minimum of 3 months, Long-term savings for life's important goals for a minimum period of 1 year, the Hala savings plan which is specially built to suit Muslims, and the saving circles which allows a group of people to set targets and save together with others to meet them.
The Cowrywise app is available on Google's Android Playstore and the Apple store and you can also use their website if you prefer it.
3) Sumo Trust
Sumo Trust is another saving app and online investment platform in Nigeria that is trusted by many Nigerians right now.
The app is an automated savings and investment platform helping reshape the poor saving and investment culture of Africans and whether you need to save money for your rent, school fees, properties, and many more, Sumo Trust got you covered.
Some unique features of this platform include the instant save feature and the fixed savings feature which allows you to lock funds whenever you need them for the specific purpose you had in mind before locking it (more like a fixed account).
The Sumo Trust platform offers as high as 10%-15% returns on savings per annum and you can save as little as 100 Naira and no maximum amount.
Sumo Trust is available on the Apple store and Android Playstore and they're registered as a financial company with Cooperate affairs commission (CAC) with the RC NUMBER: 1524989.
4) ALAT By Wema Bank
Alat is Wema Bank's solution to the increasing problems of saving money encountered by both their customers and the average Nigerian.
This platform is owned and managed by one of Nigeria's prestigious banks and financial organizations, Wema Bank so you're sure your money is in safe hands after investing or saving you money on this platform.
ALAT is a digital bank account that can be open within minutes on your smartphone or internet-enabled personal computer. On this platform, you can set saving goals and also start saving in no time.
It is also the first saving app in Nigeria that offers you a debit card that can be used to withdraw funds or make cash transfers to anyone from your ALAT account on any ATM across the country. With this platform, you can also make cool money by referring your friends or anyone at all to use the platform with your referral link. Easy!
The app is available on Google Playstore and the Apple store. You can also create and manage your account on the ALAT website if you don't want to get the app.
5) Kolopay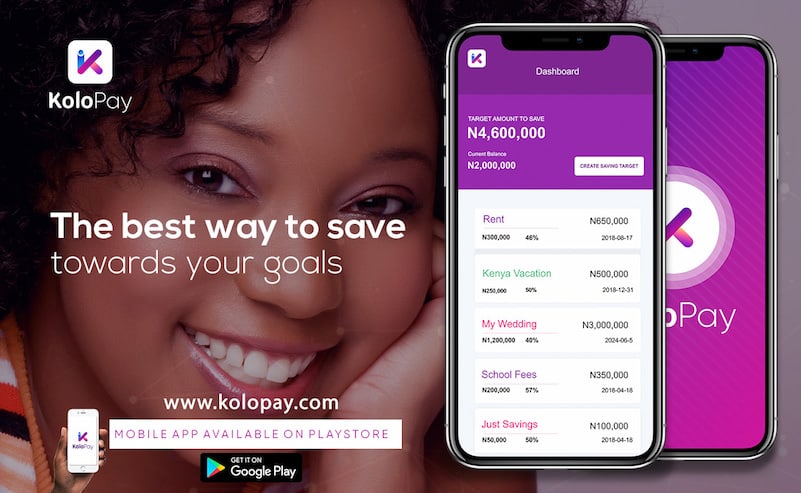 Kolopay is the digital version of our traditional Piggybank box known as "Kolo" and along with the "pay" suffix, it is easy to tell that is a savings and payment platform just from its name.
It is a mobile and web application that aims at helping you save money little by little towards your planned goals over a while. The platform is also totally free i.e no charges and no hidden charges whatsoever, just savings.
The platform also offers a 10% annual interest on your savings when you lock your goals and also a robust security feature that ensures that your funds aren't compromised at all.
Some unique features of this saving app included the autosave feature that automatically saves a fixed amount either Daily, weekly or monthly, the Easysave feature that allows you to save any amount at any time and the Koloshare feature that allows you to invite people to contribute toward your goal (crowd-fund).
Kolopay is only available for Android users for now and you can get it on the Google Playstore.
6) Kudi
Kudi simply means "Money" in the Hausa language and this is exactly what the platform is all about. This platform is an online savings and payments platform that allows registered users to manage their finances uniquely.
Apart from savings, this app also allows users to make quick cash transfers, pay electricity bills, pay subscription bills, buy data, sell over recharged airtime, and many more all in one place.
The app is only available for Android users for now and we believe the iOS version might be arriving very soon.