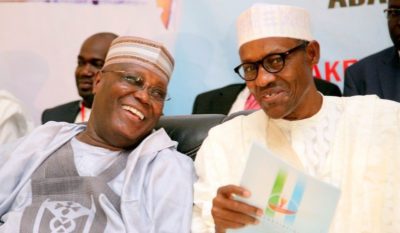 As the 2019 general elections in Nigeria is fast approaching, various political parties have released the names of their valid candidates for the elections and we at TheNigerianInfo have decided to upload a comprehensive list of Nigeria presidential election 2019 candidates + their Vice Presidential Candidates.
The question, who will be the next president of Nigeria, will be answered by the Nigerian general election 2019 and as we all know, Atiku Abubakar and the incumbent president, Muhammudu Buhari are the two major contenders in this presidential election which will be held in Nigeria.
Timetable For 2019 General Election In Nigeria
Below is the summarized timetable for 2019 general elections in Nigeria.
Presidential, Senate & House Of Representatives Elections – February 23, 2019 (shifted from February 16, 2019).
Governorship, State Assembly and FCT Area Council Elections –

March 9, 2019

.
Complete List Of Nigeria Presidential Election 2019 Candidates
President Muhammadu Buhari – All Progressives Congress, APC (Running Mate: Prof Yemi Osibanjo) 
Alhaji Atiku Abubakar – Peoples Democratic Party, PDP (Running Mate: Peter Obi)
Mr. Omoyele Sowore – African Action Congress, AAC  (Running Mate: Dr. Rabiu Ahmed Rufai)
Mr. Gbenga Olawepo-Hashim – Alliance for New Nigeria, ANN (Running Mate: Chief Arthur Nwankwo)
Mr. Donald Duke – Social Democratic Party, SDP (Running Mate: Dr. Mohammed Junaid)
Mrs. Obi Ezekwesili –Allied Congress Party of Nigeria, ACPN (Running Mate: Alhaji Abdulganiyu Galadima)
Major General John Gbor – All Progressives Grand Alliance, APGA (Running Mate: Chief Jerry Chikwueke)
Dr. Obadiah Mailafia – African Democratic Congress, ADC (Running Mate: Nasiru Tanimowo Nurain Bolanle)
Prof Kingsley Moghalu – Young Progressive Party, YPP (Running Mate: Mrs. Umma Getso)
Pastor Chris Okotie – Fresh Democratic Party, FDP (Running Mate: Binutu Adefela Akinola)
Major Hamza Al-Mustapha, RTD – Peoples Party of Nigeria, PPN (Running Mate: Mr. Opara Robert)
Ali Soyode – YES Party (Running Mate: Mr. Abdullahi Balkisu Mustapha)
Dr. Davidson Isibor Akhimien – Grassroots Development Party of Nigeria, GDPN (Running Mate: Hamman Ibrahim Modibbo)
Ike Keke – New Nigerian Peoples Party, NNPP (Running Mate: Johnson Omede)
Mr. Ahmed Bee Buhari – Sustainable National Party, SNP (Running Mate: Nwagu Kingsley Philip)
Apostle Sunday Chukwu-Eguzolugo – Justice Must Prevail Party, JMPP (Running Mate: Salihu Iman Aliyu)
Mr. Chuks Nwachukwu – All Grassroots Alliance. AGA (Running Mate: Tijjani Aisha Ali)
Mrs. Eunice Atuejide – National Interest Party, NIP (Running Mate: Bello Muhammad Jibril)
Hamisu Santuraki – Mega Party of Nigeria, MPN (Running Mate: Ufondu Chinwe Florence)
Prof. Peter Nwangwu – We the People of Nigeria Party, WTPN (Running Mate: Adebiwale Olaurewaju Odunlade)
Mr. Tope Fasua – Abundant Nigeria Renewal Party, ANRP (Running Mate: Yakubu Aminu Zakari)
Mr. Ade Fagbenro Bryon – Kowa Party (Running Mate: Unknown)
Moses Shipi – All Blending Party, ABP (Running Mate: Okwuanyasi Abiola Kika Shaliat)
Alhaji Yahaya Ndu – African Renaissance Party, ARP (Running Mate: Unknown)
Pastor Habu Aminchi – Peoples Democratic Movement, PDM (Running Mate: Unknown)
Yabagi Yusuf Sani – Action democratic Party, ADP (Running Mate: Olateru Olagbegi Martin Kunle)
Mr. Babatunde Ademola – Nigeria Community Movement Party, NCMP (Running Mate: Tataji Aisha Asabe)
Mr. Martin Onovo – Conference of Nigerian Political Parties, CNPP (Running Mate: Unknown)
DOWNLOAD LIST OF PRESIDENTIAL CANDIDATES(PDF)
Note: All Candidates whose Running mates as marked as "Unknown" have not published the names of their respective running mates online and we are yet to see them. Just in case you know the correct running mates of these Nigeria presidential election 2019 candidates, you can always provide them via the comment section below and we'll update the post reflecting your corrections.